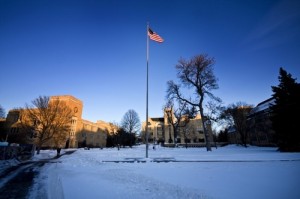 January Term is an interesting time at St. Thomas.
Interesting in that students are faced with a decision between cramming a semester-long class into a month or taking a month-long hiatus from school altogether.
Interesting in that my friends are enjoying the tropical sands of Hawaii while I slip and slide around the icy streets and sidewalks of St. Paul.
Interesting in that campus takes on a whole new personality.
With the typically uninviting Minnesota temperatures and the majority of the student population taking a month-long break from campus life, campus can resemble something of a ghost town.
In my first year taking a J-Term class at St. Thomas, I've noticed the marked difference in campus atmosphere, and I'm not just talking about the sub-zero temperatures we've been enjoying.
It's a strange feeling walking to a 9 a.m. class and being one of only three people in the Upper Quad.
Sure, St. Thomas isn't the liveliest of campuses during January, but there's still plenty of ways to make the most of your J-Term. Whether you're on campus or not, J-Term is a great time to do some of the things you normally don't have time for during the school year.
It's a great time to get an early jump on applying for internships or summer jobs. Getting your applications in early is never a bad idea, especially given the current job market. Try checking out the job and internship listings on the Career Development Center's Web site and give yourself a chance in this frigid job market.
Cheer on our sports teams. Our men's basketball team is undefeated in its last 30 conference games. Why not take a break from huddling by the space heater and go support the Tommies? The men have four home games this January, all played at Concordia University due to on-campus construction. St. John's comes to take on St. Thomas Jan. 16 in what will almost surely be an entertaining exhibition of payback for our heartbreaking football loss in Collegeville.
Start planning your spring break. Nothing keeps my despondent winter emotions in check better than envisioning myself enjoying the sun and the surf in less than three months. If you haven't solidified your plans yet it's a great way to forget about the single-digit temperatures and give yourself something to look forward to.
If all else fails, hibernate. Break out the boxed sets of your favorite TV shows, a blanket and some hot chocolate. When else are you going to have time to watch "It's Always Sunny in Philadelphia" the entire day? If you aren't up to your neck in J-Term reading assignments, it can be fun to be completely unproductive and let your batteries recharge for a day. With spring semester just around the corner, there'll be plenty of hectic days to come.
Brent Fischer can be reached at bafischer@stthomas.edu