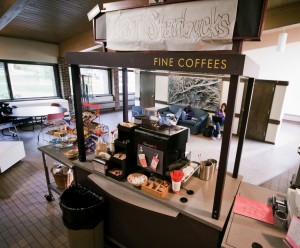 Everyone has a favorite place on campus. It could be the quad, the student center, the athletic facilities, or even the library. For many people, including myself, it was Rockey Grounds Coffee in the Brady Educational Center on South Campus.
Before St. Thomas terminated Rockey Grounds' lease, it was more than just a place to grab a cup of coffee. It was an interesting place to spend time. Lorna Rockey, who owned and operated Rockey Grounds for 15 years, was responsible for making it the place that so many people cherished.
During Lorna's time at St. Thomas, she sold many cups of coffee and shared her experiences and advice with many people on campus.
Lorna provided a laid-back, open-minded atmosphere on campus. Lorna is a photographer who has traveled to over 70 countries, and she shared numerous stories about her world travels with her customers. To many of those customers, she was much more than a barista. She was a friend.
Lorna helped people through tough days and, most importantly, challenged others to be better human beings.
What would Rockey do?
So many people cherished the moments they had at Rockey Grounds. Lorna made a point of developing personal relationships with her customers. Since Rockey Grounds has vanished from the BEC, I believe there is a noticeable change in the once welcoming environment.
The students who work at the Starbucks cart have had a negative reception from people upset about Rockey Grounds' departure. Most people, including Lorna, were caught off-guard by the termination of Rockey Grounds. But many people have acted out at the staff of the new BEC coffee cart, which is not right.
The new student workers are most likely wonderful people. I believe St. Thomas student workers do a wonderful job of running the various food services on campus. But Rockey Grounds was special because of Lorna's presence.
A mission in question
St. Thomas' mission statement reads, "The University of St. Thomas educates students to be morally responsible leaders who think critically, act wisely and work skillfully to advance the common good." The university also claims that it strives to constantly pursue truth, dignity, diversity, personal attention and gratitude. St. Thomas could have handled the termination of Rockey Grounds in a better way more in line with these mission statements.
Lorna forged a community based on the very values that can be found in St. Thomas' mission statement. It makes me sad that members of the St. Thomas community will no longer be able to form relationships with Lorna, all because St. Thomas wanted to move toward using internal service providers.
But St. Thomas has yet to force Coffee Bené out of the library, and in all fairness, Coffee Bené should also be asked to leave since it, too, is an external service provider.
According to Bruce Van Den Berghe, associate vice president of auxiliary services, St. Thomas did not violate the agreement and the Rockey Grounds situation was handled fairly. Although I am sure the written agreement was not violated, the university did not handle the termination in an ethical manner as should be expected. There was not even a face-to-face meeting between Rockey and the university. It is my sincere hope that St. Thomas is not losing sight of its morals in order to make St. Thomas more profitable.
St. Thomas should have celebrated, not terminated, such a unique asset to the school community. Lorna Rockey made a point of running her business in an ethical manner, which included brewing fair-trade coffee from local vendors, something that Starbucks cannot claim. It is a shame future students, visiting alumni, faculty and staff won't have the opportunity to meet such a wonderful person over a perfect cup of coffee.
Kristi Battarbee can be reached at batt3378@stthomas.edu.