The hustle and bustle around campus is a sure sign a new school year is beginning. While trying to weave my way through the quad, I noticed there are a lot more freshmen this year.
St. Thomas is welcoming the largest freshman class in history, currently totaling 1,521 students, so there's a possibility the campus could feel crowded.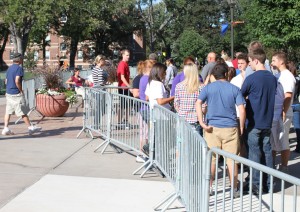 But after bumping into several lanyard-clad freshman, I noticed one thing – each student greeted me with a smile. This year's freshman class may be the largest, but they seem ready to take on the friendly Tommie spirit.
A fresh start
If you attended any of the events leading up to opening week, the large freshman turnout was obvious. Seeing so many freshman attending a movie night or a bingo game shows promise for the beginning of the year.
Last year, neighbors took issue with the excessive partying that spilled off campus. If the majority of the new class continues to choose campus-sponsored board games over house parties, the year could be pretty peaceful.
Overcrowding of the residents halls has been mentioned as a side effect of enrolling the largest-ever class. I am choosing to see the positives of their arrival on campus.
First of all, Murray Hall is once again a female dorm. As a former resident of Murray Hall, it is lovely to see women back in the "hidden dorm."
Also, the addition of Koch Hall in the old Koch workout center is a positive addition to campus. The new community-style housing boasts the opportunity to involve more students in the experience of living on-campus.
Size matters
A larger freshman class on campus most likely leads to larger class sizes. But a few more students in class also creates an opportunity for livelier group discussions.
It is easy to question why so many students were accepted and if that means admission standards are starting to slide. I just want to pose a question: What makes the students in this class any less worthy than those who came before it?
While some are nervous about the impact of a larger freshman class, I look forward to seeing the mark the class of 2014 will leave on campus.
Gina Dolski can be reached at grdolski@stthomas.edu.