A campus with a tobacco ban is a utopia to some. To others, it's the worst idea imaginable. After St. Kate's campus-wide tobacco ban, there has been a lot of talk about how St. Thomas would benefit from a similar policy.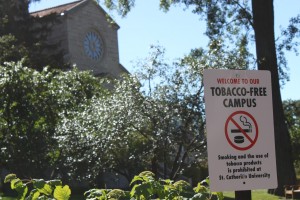 The idea of a tobacco-free campus may seem appealing, but the fantasy could quickly turn into a nightmare. As the saying goes, "When people are told they can't do something, it only makes them want to do it more."
Though I do not smoke or use tobacco, I am still wary of banning tobacco products on campus. Banning a product on campus – a product that is legal outside of school – will cause more problems than it solves.
If tobacco was banned on campus, it would place a larger burden on people who smoke than most people realize. The consequences of this could even potentially rub off on people who don't smoke.
Smokers would have to go off campus to smoke a cigarette if tobacco were banned. Who would want to walk off campus, especially in the winter, to smoke? My guess is practically no one.
Having to go off campus to use tobacco products makes it more likely that people will violate another policy: smoking in the residence halls.
There is no way to smoke in a dorm room without the smell of tobacco wafting down the entire hall. In that instance, not only would the person smoking be inconvenienced, but the community he or she lives in would be bothered as well.
A different perspective
For somebody who doesn't smoke, it is easy to get on board with the idea of a tobacco ban. But take a second to rethink the idea of a ban as a form of punishment.
Yes, there are people who do not strictly follow the 30-foot rule while smoking outside of buildings, but there are people who do. Should every person who uses tobacco, including those who follow the rules, be punished?
Let's look at a similar situation through a different lens. People who drink under the age of 21 are definitely breaking the law as well as campus rules. People who smoke directly next to a building on campus are definitely breaking campus rules as well.
Would it make sense to enact an alcohol ban on campus and punish people who follow the alcohol policy, simply because others violate the policy? I am positive a large percentage of students would be upset if this happened.
Banning tobacco on campus would punish those who follow the rules as well. Though only 17.7 percent of students smoke on this campus, according to a 2007 St. Thomas core survey, that is still a large community to consider.
A possible solution
Why not keep the idea of alcohol violations in mind for tobacco use as well? If people are violating policy by smoking in prohibited areas, then punish those individuals, rather than that entire community.
Enacting a strict punishment for those who violate a smoking policy would help control the problem of too many people smoking too close to buildings. Doing something to directly control that problem won't unfairly inconvenience people who do follow the campus policies, and is a better solution than banning tobacco completely.
Gina Dolski can be reached at grdolski@stthomas.edu.