For the third consecutive week, the St. Thomas football team faces another difficult test as it hosts also undefeated Hobart (N.Y.) at noon Saturday.
The Liberty League champions are 12-0 for the first time in school history and will make their first national quarterfinal appearance. Saturday marks the first-ever gridiron battle between the two universities.
Hobart advanced to Saturday's quarterfinal by running past Wittenberg (Ohio) 35-10 at home last weekend. The Statesmen ran for 286 yards and five touchdowns, while possessing the ball for almost 40 minutes. St. Thomas advanced to its fourth consecutive national quarterfinal appearance, defeating Elmhurst 24-17 last weekend.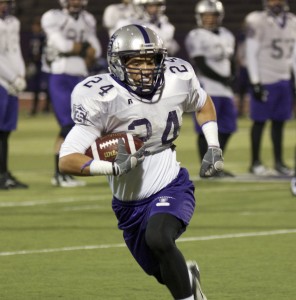 The Statesmen and the Tommies have a lot in common, especially in their defense's ability to stop the run. Hobart features the nation's third best total defense, allowing only 222.6 total yards per game while also holding opponents to 88 rushing yards and 14.3 points per contest.
Wide receiver Dan Ferrazzo acknowledged the Statesmen's defensive talent, and he said he thinks the Tommie offense needs to stay balanced.
"They look energetic and athletic on defense," Ferrazzo said. "It is always important to keep team's defenses guessing by mixing pass and run … we need to focus on executing each play and the rest will take care of itself."
Offensively, Hobart features a two running back system of Steven Webb and Bobby Dougherty, with both runners averaging more than 82 yards a game. Quarterback Nick Strang completes 63 percent of his passes and has thrown 16 touchdowns this season, averaging 158.3 passing yards. The Hobart offense scores 38.5 points and averages 424.3 yards of total offense.
Caruso said he has no question in his mind that Hobart will focus on the ground game and that St. Thomas will not waver in its game plan to stop it.
"They're going to want to run the ball without a doubt," Caruso said. "We're a team that loads the box. That's what we're going to continue to do."
The Tommies' dominance against non-conference opponents persisted in last week's dispatchment of the Bluejays. Since Caruso has been the coach, the Tommies are 19-2 against non-MIAC opponents, including four wins this season.
"The fact that we're 19-2 is attributed to the kids playing our game," Caruso said. "When you get away from who you are is when you get into trouble."
The win over Elmhurst also showcased the Tommies' second defensive touchdown this season, defensive end Ayo Idowu's 86-yard scoop and score. Linebacker Steve Dejewski returned an interception for a touchdown back on Oct. 13 against Bethel.
Dejewski said Idowu's touchdown was important last weekend.
"That was definitely a huge play for us," Dejewski said. "Anytime you can put points on the board without the offense on the field, especially in that fashion, is exciting for us."
Ferrazzo said defensive scores provide a boost for the offense, too.
"It is always exciting to see guys score that normally are trying to stop the other team from scoring," Ferrazzo said.
Caruso said this Saturday's result comes down to focusing on what has helped the team reach this point.
"Playoff time is not a time to do anything other than be the best you can," Caruso said. "My dad used to say, 'When you go to a dance, you dance with who brung ya.' We're at the dance right now, and we're going to dance with who brought us there."
Ross Schreck can be reached at schr8250@stthomas.edu.