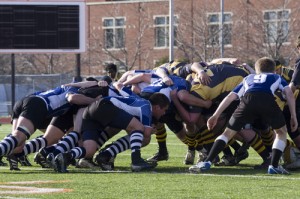 The Blue Ox rugby team continued its remarkable season Saturday, winning the Midwest championship in Chicago.
The Blue Ox, ranked No. 3 in the country, defeated Clarion University (Pa.), Wright State (Ohio) and finally Viterbo University (Wis.) for the title and rights to play next fall in a final four tournament of the nation's top teams.
"We knew we were the best team out there," junior captain Sam Glynn said. "We played our game, and things came out well."
The Blue Ox maintained the stingy defense it showed off at the Macalester Cup in the first game, blanking Clarion 33-0. Next up was Wright State, who gave the Blue Ox all it could handle, but the Blue Ox snuck by 7-3.
"That was by far our toughest game," Glynn said. "We were all pretty beat up after."
But with a one-day tournament format, there was little time to rest, and Viterbo University–the same team Blue Ox beat in October to advance to Saturday's tournament–awaited in the championship match.
Glynn said Viterbo looked solid, sweeping its bracket to advance to the championship.
"We were very nervous, but felt ready to go," he said.
The Blue Ox was indeed ready to go, shutting out Viterbo 15-0 and earning a spot in the final four tournament next year.
Glynn said several things are still in the air for the tournament, including its location and whether or not seniors graduating this spring will be eligible to play. The Blue Ox would take a heavy hit if the tournament decided graduated seniors could not play, because about 10 members of this year's team would be ineligible. On top of that the Blue Ox remains unsponsored by St Thomas, so fundraising for travel expenses could be a serious obstacle.
Glynn said he hopes these issues can be avoided and this year's full team will be able to play.
Jordan Osterman can be reached at jrosterman@stthomas.edu.