The St. Thomas baseball team (34-8) was named the top-seed in Whitewater, Wis., for the NCAA regional tournament Monday, May 14.
After losing the MIAC championship game to St. John's Sunday, No. 2-ranked St. Thomas received an at-large bid to the 56-team nationwide tournament. The regional tournament consists of eight teams and is double-elimination.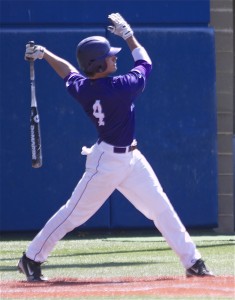 "We're obviously excited to be the top-seed in our region," junior right-handed pitcher Dylan Thomas said. "We've worked hard, but we aren't done yet."
The Tommies' first game is Wednesday against St. Norbert (Wis.), time to be announced. The Green Knights are 26-11 this season, tying the record for most wins in a single season; the team also won its conference tournament and received an at-large NCAA berth, its first since 2009.
Thomas is confident that his team will have a strong start to the tournament.
"We aren't going to take them lightly like we did St. Mary's," Thomas said.
Other match-ups in the Whitewater region include UW-LaCrosse vs. Aurora, North Park vs. St. Scholastica and UW-Whitewater vs. Concordia.
St. Thomas has played three of the regional opponents earlier this season; it swept St. Scholastica in its first doubleheader of the season and split double headers with UW-LaCrosse and UW-Whitewater.
"When we played these teams in the beginning of the season, we weren't nearly as good as we are now," Thomas said. "We know what to expect from them, and we're ready to make a statement."
Be sure to check TommieMedia.com for all the regional tournament coverage.
Hayley Schnell can be reached at schn3912@stthomas.edu.