Junior outfielder Andy Henkemeyer's two-out grand slam in the seventh inning solidified the Minnesota Gophers baseball team's 9-2 victory over No. 2-ranked St. Thomas Tuesday at Siebert Field, ending the Tommies' program-best winning streak at 21 games.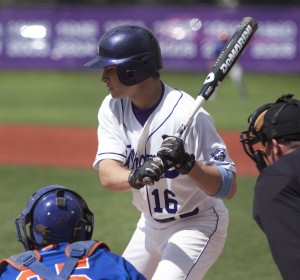 After being down 5-0 in the second inning, St. Thomas (30-5, 18-0 MIAC) picked up two runs in the seventh. Sophomore catcher J.D. Dorgan's RBI single and senior first baseman Dan Reichert's sacrifice fly brought home scores, Henkemeyer's grand slam proved to be the offensive surge that put the game out of reach for the Tommies.
"It was pretty devastating," sophomore outfielder Tim Kuzniar said. "We had two outs, and we were ahead in the count so it just deflated us."
The game, which was the Tommies' fifth in three days, was the final one played at Siebert Field. The field will be replaced by a new $7.5 million baseball field on the same site. 1,421 fans showed up to say farewell to the 41-year-old stadium.
While the loss was tough on his team, Thomas said it was an honor to play in the stadium's last game.
"There wasn't a rivalry; whenever either team went up to bat, everyone was cheering," Thomas said. "Everyone was there to have fun."
The Tommies had previously won their last two games at Siebert Field; they won 6-3 in 2009 and 8-3 last year. Last year's winning pitcher, senior right-hander John Licht, got the start but struggled on the mound. He gave up seven hits and five earned runs in the first two innings before he was replaced with sophomore pitcher Mark Ulrich midway through the second inning.
Ulrich faired better than Licht; he gave up only two hits and three strikeouts.
Kuzniar said his team had an expectation to "knock them around" and show fans which team is the best in the Twin Cities, but that didn't happen for the Tommies.
"We didn't get ahead of the counts for pitchers… our pitching really wasn't there to start the game," Kuzniar said. "I don't think we've ever played in front of almost 1,500 fans either, so there might have been some nerves there."
Thomas and senior third baseman Charles Bruchu led the team with two hits. Thomas, who was named MIAC Pitcher of the Week Monday, April 30, extended his hitting streak to eight games, and Kuzniar extended his hitting streak to seven games.
Thomas explained that there is "no key" to stringing together a hitting streak.
"Timmy and I have just been hot since we played Hamline," Thomas said.
St. Thomas' next matchup is a doubleheader against Gustavus Saturday in St. Peter. If they win both games, the Tommies will become the first team in conference history to post an undefeated conference record. The program's best finishes were 19-1 in 1996 and 1999.
Kuzniar said having a perfect conference record would be a "huge success" for the team.
"It would be huge to come back on Saturday, May 5, after losing to the Gophers and to be the first team ever to go 20-0," Kuzniar said.
Thomas said it would also send a message out to teams watching St. Thomas on a national scale.
"Some people might say that we're in a bad conference, and we shouldn't be ranked as high as we are," Thomas said. "If we go 20-0 in conference and everyone below us is just average, it shows how much better we are."
Hayley Schnell can be reached at schn3912@stthomas.edu.