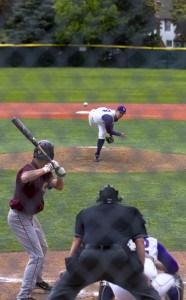 The St. Thomas baseball team's season, unlike last year's season, did not end in a College World Series national championship.
But the Tommies finished with an impressive 35-9 record on its way to winning the MIAC title and tournament before a one-run loss to UW-Whitewater ended the team's season in the NCAA Midwest Regional tournament.
Interim coach Chris Olean said he was pleased with his team's effort.
"Obviously we're disappointed we didn't make it to the World Series because that's something that I think we had the talent to do," Olean said. "Overall, I'm very happy with the season. The guys played hard, very few mental mistakes. It's just baseball; you've got to be kind of lucky at the end of the year and be the hot team."
St. Thomas finished the season ranked 10th in the nation in D3baseball.com's final poll, making it one of only two teams to stay in the top 10 all season.
After a convincing 19-9 victory over Augsburg in the MIAC title game May 16, the Tommies entered the double-elimination regional tournament as the second seed.
In the first game of the tournament, the Tommies overcame an early 4-0 deficit to defeat Carthage 14-6 and advanced to play UW-Stevens Point the following day.
Despite grabbing a 1-0 lead in the first inning, the Tommies suffered a tough 2-1 loss to Stevens Point May 20. The loss meant the team would have to win four games in a row to return to the College World Series.
Junior Kris Edwards said that while the players had their backs against the wall after the Stevens Point loss, they never lost faith that they could put together a run and return to the World Series.
"Usually you should be down a little bit in knowing that you've got to win four games in a row to even have a chance to go to the World Series," Edwards said. "But we knew that we were good enough to do it, so I would actually say we had quite a bit of confidence after that loss."
The Tommies looked poised to make that run with a 7-5 victory over Carthage the following day. But a 5-4 loss to UW-Whitewater on the evening of May 21 ended the Tommies' season and hopes of returning to the World Series.
Edwards said it was a tough way to end the season but he was happy with how the team performed down the stretch.
"We had a good year … I know we could have gone a little bit farther but I think it's a little bizarre that people are saying we should be right back in the national championship game because it's tough to get there," Edwards said. "I know we had a lot of high expectations, but the way I look at it, last year nobody had the expectation of us even making it to the World Series."
Continuing tradition
St. Thomas was on a streak of seven consecutive MIAC titles coming into the season.
All-American Matt Schuld said as a senior, he felt personally responsible for continuing the team's tradition of MIAC domination.
"This year, I think I appreciated it more than any other year, partly because I was a senior," Schuld said. "It was extra special this year because it wasn't an easy road like we've had in the past. I think that's always our number one goal that we set at the beginning of the year."
Shining star
Schuld had a particularly good season, receiving recognition for his efforts on and off the field.
He finished with a 10-1 record and a 2.05 ERA this season, earning him the title of 2010 MIAC Pitcher of the Year and Division III National Pitcher of the Year by D3baseball.com. Schuld was also named the CoSIDA Baseball College Division Academic All-American of the Year.
Despite his individual success this season, Schuld said much of the credit should go to his teammates.
"I had bad games, but in my bad games we'd score a bunch of runs. So my record looks a lot better than I probably actually pitched," Schuld said. "I owe a lot to my teammates, I'll tell you that much."
Olean said Schuld's departure will be a huge loss for the program.
"He's one of those once every ten years type of pitcher in my opinion. He was the best pitcher I've ever coached here," Olean said.
Looking ahead
This year's team graduated seven seniors this May, but Olean said he's confident that a strong roster and incoming recruits can step up to fill the open positions left by graduated seniors.
"How good we are and how much noise we can make towards the end of the season, that's really going to depend on how some of these freshman develop and how some of these juniors, who will be seniors, can take over and be those leaders," Olean said. "But talent-wise, I feel very good that we're going to make some noise again next year."
Olean currently holds the title of interim coach, but his position isn't guaranteed for next season.
Olean said other candidates will be interviewed for the position, but he's hopeful he'll be appointed permanent head coach for next season.
Schuld said Olean did a great job in his first year as head coach, especially considering the high expectations placed on the program.
"He handled the pressure really well, he was a great in-game manager," Schuld said. "He was a huge stabilizing force for us. We were under pressure too and he kept us all calm, making sure we didn't have big ups and downs. Even after a bad loss, we were still fine. He did a great job."
Edwards agreed and said he hopes Olean will return as head coach for next year.
"He put us in positions to win every game and that's all you can ask for from a coach," Edwards said. "I'd love to have him back; not only did he help the team but he helped me personally. I had my best year I ever had in college… I have him to thank more than anything for just helping me have a successful year."
Brent Fischer can be reached at bafischer@stthomas.edu.