Breaking down the matchup between Monmouth, (Ill.) and St. Thomas shows that Saturday's game should be a lights-out contest between two of the nation's top 10 teams.
Monmouth offense vs. St. Thomas defense
Perhaps the most daunting aspect of the Fighting Scots' game is a prolific offense that has churned out yards at a record pace this season. Monmouth is averaging just shy of 48 points per game while racking up 542 yards per contest.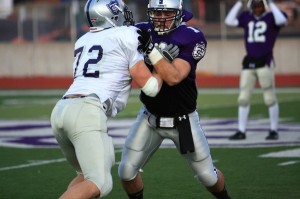 A major factor in the Monmouth scoring buffet has been junior quarterback Alex Tanney, who is having a monster season and has already shattered the school's career records in yardage and touchdowns. This season, Tanney has thrown for 3,495 yards and 42 touchdowns with a 70.2 percent completion rate.
On the ground, the Scots feature a two running back attack between sophomore Caleb Pratt and senior Clay Bricker. Pratt has 845 yards this season on 5.5 yards per carry with six touchdowns. Bricker has racked up 756 yards on six yards per carry and has reached the end zone 12 times this season.
Thanks to Tanney's generous spread of the football, Monmouth features a deep receiving core. Sophomore Matt Shepard is Tanney's primary target. Shepard has nine touchdowns on the season but it's his 948 yards receiving that is a school record. Junior Mike Blodgett has 900 receiving yards and eight touchdowns, while seniors Kyle Wantland and Nick Wright have combined for 976 receiving yards and 18 touchdowns this season.
Faced with the task of facing the Scots' efficient offense will be the Tommie defense, anchored by junior linebacker Tommy Becker. St. Thomas has given up 14.4 points per game this season while surrendering 108 rushing. The defense has allowed just 3.1 yards per rushing attempt and 163 receiving yards per game. Junior Cyrus Allen leads the team in sacks with 4.5 this season, while senior Zack Sturm and junior Wyatt Delgado lead the team in tackles.
St. Thomas offense vs. Monmouth defense
St. Thomas features a potent offense of its own, averaging more than 40 points and 425 yards a game.
Junior Ben Wartman will be a huge deciding factor in Saturday's contest. Wartman has 1,271 yards on the season, averaging 6.2 yards per carry with 17 touchdowns. Much like Monmouth's double running back system, sophomore Colin Tobin has been a great compliment to the Tommies' run game this season. Tobin has 738 yards on the year on seven yards per carry and he has reached the end zone nine times.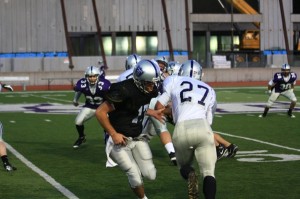 In the passing game, sophomore quarterback Dakota Tracy will make his fourth career start. Tracy has been a solid pass and run threat while completing 59 percent of his passes for 615 yards and eight touchdowns on the year.
Sophomore Fritz Waldvogel leads the St. Thomas receivers against Monmouth. With 793 yards and four touchdowns this season, Waldvogel represents the Tommies' biggest threat through the air with his game-changing play ability. Sophomore Nick Gleisner and senior Tony Margarit could benefit from any extra attention directed toward Fritz by the Scots' secondary.
Sophomore linebacker Adam Hoste, who anchors the linebacker core and leads the team in tackles, leads the Monmouth defense. Senior defensive lineman Anthony Goranson, who clocks in at 6 feet 5 inches and 255 pounds, leads the team with 7.5 sacks.
Monmouth gives up a paltry 9.4 points per game this season, while surrendering just 95 rushing and 153 passing yards per contest.
Special teams – Waldvogel shines

Often the deciding factor in close football games, special teams could have a huge influence Saturday.
St. Thomas has arguably the most dangerous special team player in the country in Waldvogel, whose six return touchdowns this season is the second most ever by one player in a season. Waldvogel is first in Division III in yards per kick return at 36.4 and eighth in punt return with 15.4 yards per return.
Monmouth has yet to have a special teams touchdown this season and averages just 22.7 yards per kick return and 5.8 yards per punt return.
Matchups to keep an eye on

First quarter scoring: Monmouth has outscored its opponents 163 to 16 this season in the first period. St. Thomas has outscored opponents 110 to 23. Both teams are used to playing from out front, so look for a first quarter lead to have some bearing on how the game plays out.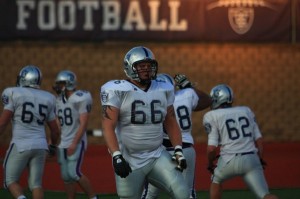 Alex Tanney vs. St. Thomas' secondary: A lot of weight will be on the shoulders of St. Thomas' defensive backs and safeties, as the defensive backs will face its biggest test of the season with an extremely accurate Tanney. Tanney is not used to turning the ball over. He has only been picked off seven times this season so adding to that number would be a huge way for the Tommies to swing momentum its way.
Waldvogel vs. Monmouth special teams coverage: Waldvogel's explosive speed could change this game in a hurry and a special teams score would be huge. Monmouth has been solid in its special teams coverage, giving up only 17 yards per kick return and three yards per punt return, but the Scots have certainly not seen a returner of Waldvogel's caliber this season.
Josh Ostrue and the Tommie o-line vs. Anthony Goranson and the Scot's d-line: As in any game, the matchup in the trenches is where games are usually won or lost. All-American center Ostrue and the rest of the offensive line will need to win this battle and clear holes for the Tommie running backs. A solid game on the ground for St. Thomas is a must to keep possession time high and the ball out of Tanney's hands.
Jordan Osterman can be reached at jrosterman@stthomas.edu