St. Thomas football coach Glenn Caruso has been named a Regional Coach of the Year.
The American Football Coaches Association named Caruso and five other Division III coaches award recipients Monday. Caruso's team finished the season 12-1 after an NCAA playoff loss to Bethel Saturday, the most wins in program history.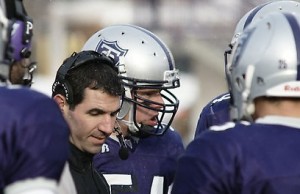 "I'm completely honored, blessed and humbled that so many people have worked so hard that a reward like that can come to fruition," Caruso said. "It's nothing more than a reflection of the hard work the players and staff have put in."
Caruso was also voted the MIAC Coach of the Year, which no St. Thomas football coach had been named since 1993.
"It's all about the players," Caruso said. "[It's] nothing more than a reminder that you're able to get your players to play hard for each other and the staff."
After a 2-8 record in 2007, St. Thomas' 30-6 record under Caruso since then marks the biggest turnaround of any college football program in the country.
"It's much deserved," senior defensive end Cyrus Allen said. "He earned it."
Jordan Osterman can be reached at jrosterman@stthomas.edu.