Editor's Note: Throughout the week, TommieMedia will be featuring stories on the upcoming Tommie-Johnnie game. Make sure to check out the Tommie-Johnnie coverage page for daily updates.
St. Thomas heads to St. John's this weekend in search of its first win in Collegeville since 1986. Putting a finger on what's kept St. Thomas from victory all these years is difficult, but in searching for a win Saturday, it will help St. Thomas to know its opponent. This begs the question:
What the heck is a Johnnie?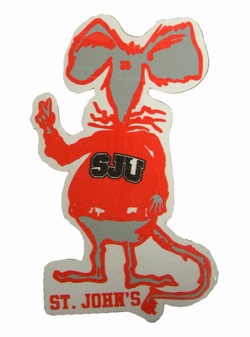 If you had to pin a mascot on it, it's a rat.
"Well, that's unofficial," said Ryan Klinkner, St. John's athletic media relations director.
The school's affiliation with the rodent started at St. John's old basketball arena, called Rat Hall. It was in this arena that the student group called the "RAT PAK" was started, and the name stuck. Despite the move out of the arena in 1972, the RAT PAK remains St. John's foremost student fan section.
St. John's junior Anthony Lotzer, a current member of the RAT PAK, said the group looks to "pump up the crowd and engage fans as much as possible."
"At times, we can be crude," Lotzer said in an e-mail. "But we continue to carry out tradition."
Although the Rat Pack has a dedicated following and one of the guys "is dressed up as a rat," technically there is no mascot for St. John's. A Johnnie is just, well, a Johnnie. It took a while for the school to even nail that down.
"Johnnies kind of started in the 1930s," Klinkner said. "There's a photo of a head football coach wearing a sweatshirt with 'Johnnies' stitched in."
Klinkner said before that St. John's athletes were called "the Jays" in newspaper articles. The name came from the powder-blue jerseys the football team wore.
"They were just atrocious," Klinkner said.
The current coach John Gagliardi pulled the plug on the powder blue jerseys in 1953, his first season as head coach.
"He used to joke they looked like the Harlem Globetrotters," Klinkner said.
The Jays were out and the Johnnies were in, and decades later St. John's still holds its "unofficial" ties to the rat.
Natural enemies
In the cartoon classic "Tom and Jerry," Jerry was a mouse, but you can be sure Tom would have chased him with just as much ferocity had Jerry been a rat. What rivalry has seen more epic battles is debatable, but it's fitting that St. Thomas and St. John's are aligned with animals so naturally sworn to be enemies.
Despite St. Thomas' willingness to take on an official mascot, the school has had plenty of identity issues of its own over the years. It's always been a whiskered feline, but the gray Tommie that prowls current St. Thomas athletic events has had some interesting predecessors.
"In the past it had been more tiger looking," said Matt Gustafson, associate director of campus life. "At one point in time it had been orange."
The evolution of "Tommie" worked its way up to 2000, when a mascot development steering committee was put together. It was there that the current look was born.
Mascot-less game
Gustafson said it is general policy for Tommie not to attend away games, so with neither school having a mascot at Saturday's game the chances of a fight like the Ohio University Bobcat and the Ohio State University Buckeye are slim.
Even though Tommie won't be in Collegeville Saturday, one of the mascot's student personalities feels that nature will run its course.
"CAT>RAT," the person said in a Facebook message.
When St. Thomas runs onto the field, the cats will be there to cheer.
So will the rats. Unofficially, of course.
Jordan Osterman can be reached at jrosterman@stthomas.edu.