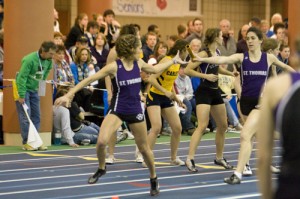 Talk about redemption.
After two straight years of second-place finishes at the NCAA Championships, the women's track and field distance-medley relay finally broke through and won the national championship.
"It's been three years coming," said senior Kelly Russ, who anchored the relay in the mile distance.
The foursome of freshman Taylor Berg and seniors Nikki Arola, Erin Sprangers and Russ finished in 11 minutes, 50.46 seconds, more than a full second ahead of second-place Wisconsin-Eau Claire. According to TommieSports.com, the relay team was just the fourth ever from Minnesota to win a national championship.
St. Thomas was far from favored as it entered the race seeded fifth, but after a full day of preparation that included a pump-up dance party featuring "Don't Stop Believing" by Journey, the Tommies felt ready to go for the evening race.
"I remember looking at Erin [Sprangers] and being like, 'I'm just ready to go out there, I don't feel nervous,'" Arola said. "I knew if all of us just go something good will happen."
Russ got the baton for the final leg in fifth place, which oddly enough was exactly where she wanted to be. After practicing and preparing all season to be running from behind, Russ said she was relieved when Sprangers wasn't out front after the 800-meter leg.
"I was glad that I got it in a pack and could follow someone," Russ said.
Russ said she started 10 to 15 meters behind the leader and had a group of two runners between her and the leader. She set out to catch the group in front of her but quickly was able to do more than that.
"With two laps to go, she takes off and starts opening it up, and I'm like, 'Oh my gosh, we could win first right now,'" Arola said. "I was just shocked."
Both Russ and Sprangers passed up individual events that would have had them running before the prelims, which is no surprise considering how close they came last year to a national title.
"Last year we wanted it so bad; that's all we thought about the whole offseason," Arola said. "It came down to .08 seconds, so that's a tough one to swallow."
This year had no such heartbreak and put an exclamation point on three careers for Russ, Sprangers and Arola.
"What better way to end our indoor careers than coming out on top?" Arola said.
Unfortunately, The team will have to wait until then for a relay reunion. Outdoor track, which starts for St. Thomas March 27, doesn't feature a distance-medley relay except for the Drake Relays April 23 and 24.
Jordan Osterman can be reached at jrosterman@stthomas.edu.