The St. Thomas men's hockey team is spending an extra night in a Burlington, Vt. hotel, after its plane had to turn around twice.
After losing games to two top-five teams in the Primelink Shootout, a United Airlines plane that was supposed to fly the team home Sunday morning experienced difficulties with low cabin pressure.
Coach Jeff Boeser said their plane actually took off as scheduled, but had to turn around.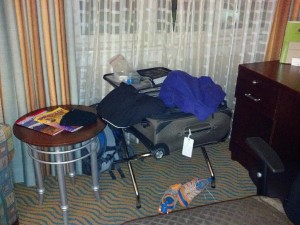 "We were about 30 minutes in and (the pilot) said he has to come back and there's a problem, so we came back," Boeser said.
The team thought the issue was resolved when it took off for a second time, but had to turn around once again.
Senior Rob Vannelli said he wasn't concerned about the situation.
"The flight attendants and the pilot were so calm about it," Vannelli said. "They didn't make it seem like too big of a deal. I thought it was a little weird the second time they had to turn around, but no one was really too worried or too scared."
Senior Brandon Bahnemann said even though the authorities were calm, he felt uncomfortable with the situation.
"Compared to the other guys, when the pilot got on the intercom and told me we had to turn around, I wasn't really at ease," Bahnemann said. "I was wondering if there was something bigger, but obviously we're all safe and taken care of now."
Despite the frustration of many hours spent in the Burlington airport with no way to get home, Boeser said the team kept its spirits up.
"I'm really proud of them, they didn't get angry or anything. They just stayed real positive," Boeser said. "Those kind of things, you'd rather just be safe than anything else."
Bahnemann agreed that while the team didn't win a game this weekend, spending time after the weekend's games brought them together.
"It wasn't the best outcome of the games, but … when you can overcome a little adversity and use it to strengthen your relationships, it is good," Bahnemann said.
Boeser said United Airlines put the team up in a hotel for the night, gave them each $30 vouchers for food and is chartering straight to Minneapolis Monday morning.
Even though the bonding was nice, Vannelli said the men are excited to come back.
"We're ready to come home," Vannelli said. "That's for sure."
Baihly Warfield can be reached at warf3860@stthomas.edu.