For the No. 4 St. Thomas football team, a victory Saturday at No. 17 Concordia-Moorhead would clinch the conference championship, while a loss would create a three-way tie for first place in the MIAC between the two teams and Bethel.
Freshman running back Brenton Braddock said although there are high stakes in Saturday's top-25 matchup with the Cobbers (7-1, 5-1), the undefeated Tommies (8-0, 6-0) will deliver.
"We're playing for the MIAC championship," Braddock said. "There is some added pressure, but we have to do our best."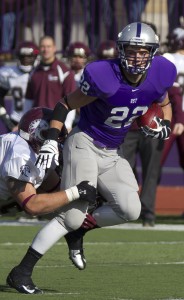 The Cobbers average 38 points a game, something that coach Glenn Caruso attributes to their relentless running game and double-wing style offense.
"There is no question. They want to beat you with the run game," Caruso said.
Senior safety Tyler Erstad said he is confident that the Tommies' run defense will defend the Cobbers' ground attack while monitoring their opponent's overall offense.
"The strength of their offense is built into the strength of our defense. It'll be a good battle between the two," Erstad said. "Every team has their own unique style of offense."
Braddock said he thinks the key to winning at Concordia lies in a consistent St. Thomas ground game.
"We need to establish the run earlier," Braddock said. "We are starting younger guys, but they are more than capable of doing a solid job."
Braddock, who has been a standout for the Tommies, is averaging 5.6 yards a carry with six touchdowns so far this season. Braddock is second in overall rushing yards only to sophomore quarterback Matt O'Connell.
Braddock said he hopes he can come up with crucial plays to keep up momentum for the Tommies on Saturday.
"I hope to carry the ball a lot and gain substantial yards on first down," Braddock said. "Making sure that on short yard situations, I'm able to put our team in good field position, not third-in-long or fourth-and-long situations."
Caruso said a big key to this weekend's success is ball security. Last week, the Tommies had no turnovers, which is a huge improvement from earlier this season when they committed six against Gustavus.
Driving the four hours to Moorhead allows the players to mentally prepare for what's ahead of them, Caruso said, and for that reason it's one of his favorite weeks of the year.
"Getting on the bus Friday morning, and everyone having their warm-ups on, popping in movies and just being together for two days is one of the more enjoyable times of the season as player and coaches," Caruso said. "I just love it."
Alex Goering can be reached at goer8777@stthomas.edu.