It's official: The Tommies are the top seed in their region for the NCAA Division III tournament.
ESPN announced Sunday afternoon that No. 1 St. Thomas will host No. 8 Benedictine University (8-2) from Lisle, Ill., part of the Chicago metropolitan area.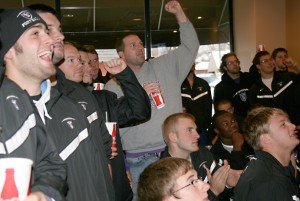 Players, coaches and a few fans gathered Sunday at Davanni's on Cleveland Avenue to find out which team the Tommies would draw.
"Let's keep in mind, the second season starts today," Coach Glenn Caruso told his team after the selection show. "The 10-0 season is gone."
Benedictine University competes in the Northern Athletic Conference. The team went undefeated in conference play (7-0) and won a conference title this season for the first time since 1934.
With the No. 1 ranking, the Tommies secure home field advantage throughout the region, and possibly farther, depending on the opponent.
The winner of Saturday's game at Palmer Field will advance to play the winner of No. 4 California Lutheran University and No. 5 Linfield College, the team that ended St. Thomas' playoff run last year.
The other No. 1 seeds on the bracket are Mount Union (10-0), North Central College (10-0) and Wesley College (10-0).
An interesting note: The Tommies still could have one more MIAC contest in the postseason. No. 6 Bethel shares the NCAA region with St. Thomas, and if both teams were to win their first two games, St. Thomas would host Bethel in the NCAA quarterfinals.
Check back with TommieMedia later this week for a preview story on Saturday's game.
Miles Trump can be reached at mttaylorjohn@stthomas.edu.