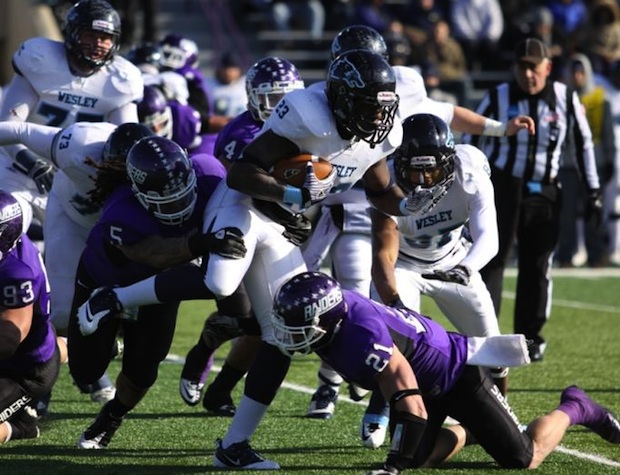 NCAA DIVISION III FOOTBALL PLAYOFFS
Semifinals, Dec. 10
No. 1 Wis.-Whitewater 20, No. 3 St. Thomas 0
No. 2 Mount Union 28, No. 7 Wesley 21
39th AMOS ALONZO STAGG BOWL
7 p.m. Friday, Dec. 16
No. 1 Wis.-Whitewater (14-0)
vs. No. 2 Mount Union (14-0)
ALLIANCE, Ohio — Junior quarterback Matt Piloto threw for 271 yards and four touchdowns, tying a personal best, and No. 2 Mount Union turned two third-quarter takeaways into touchdowns to earn a 28-21 victory Saturday over No. 7 Wesley in an NCAA Division III semifinal.
The victory gave Mount Union (14-0) its seventh consecutive trip to the Stagg Bowl, where the Purple Raiders will play Wis.-Whitewater. That game to determine the Division III champion is set for 7 p.m. Friday and will be televised on ESPN2.
Three of Piloto's scoring passes went to junior wide receiver Jasper Collins covering 26, 31 and 18 yards. Collins caught nine passes overall for 139 yards.
Senior wide receiver A.J. Claycomb caught the other TD pass from Piloto.
READ MORE, SEE MORE
"We were pretty pleased with our performance [on offense]," Piloto said. "We got off to one of our better starts, which we emphasized all week."
Wesley (12-2) gained 496 yards on offense, but the Wolverines turned the ball over six times. Mount Union junior defensive back Isaiah Scott intercepted three passes, and senior defensive back Alex Ferrara added another interception. Junior defensive back Alex Nicholls and sophomore defensive lineman Matt Fechko recovered Wesley fumbles.
"I think we had to adjust to their speed," said Mount Union junior defensive back Nick Driskill, who his team with 13 tackles, one for a loss. "Their quarterback is a really good player."
That quarterback, senior Shane McSweeny, completed 19 of 33 for 350 yards and two touchdowns, and he rushed for another 62 yards. Running back Askia Jahad added 77 yards on the ground, but his fumble on the first play of the second half gave Mount Union the ball at the Wesley 39. Seven plays later, Piloto found Claycomb in the corner of the end zone for the touchdown. A two-point conversion gave Mount Union a 21-14 lead with 12:04 left in the quarter.
"We definitely left some plays on the field," Wesley coach Mike Drass said. "We wish we could have had some of them back. Defenisively, even after the turnovers, we have to step up, but we couldn't keep them out of the end zone."
Mount Union took the opening kickoff 79 yards in seven plays, ending with Piloto hitting Collins over the middle from 26 yards out. Collins broke a tackle at the 2 before gaining the end zone. The extra point was missed.
Wesley answered by driving 65 yards in 11 plays, with McSweeny diving in from the 1. Dan Tryon's extra point gave the Wolverines a 7-6 lead with 5:22 remaining in the first quarter.
The drive nearly ended when Scott intercepted McSweeny, but Scott fumbled the ball back to Wesley on the return.
Mount Union regained the lead with a six-play, 71-yard drive. This time Piloto hit Collins in the right corner of the end zone from 31 yards out. Tyler Almeida's extra point made it 13-7 with 2:38 left in the quarter.
After an exchange of punts, Wesley regained the lead when McSweeny found Matt Barile behind the secondary and hit him in stride for a 70-yard touchdown pass. Tryon's extra point made it 14-13 with 8:45 left in the half.
McSweeny lost a fumble on Wesley's second possession of the third quarter, and Mount Union responded with a five-play, 42-yard drive. Piloto passed 18 yards to Collins, and Almeida kicked for the extra point to make it 28-14 with 7:19 to play in the third.
Wesley closed the score to 28-21 on an 81-yard pass and run from McSweeny to Matt Barile with 13:30 remaining in the game.
Mount Union stopped Wesley on two fourth down plays on the Wolverines' next possessions, and Scott ended Wesley's final drive with his third interception of the game.
"We played a good second half of defense today," Mount Union coach Larry Kehres said. "In the first half we were very average.
"Offensively, we got off to a good start, but we're still trying to put together an entire game."