Editor's Note: Throughout the week, TommieMedia will be featuring stories on the upcoming Tommie-Johnnie game.  Make sure to check out the Tommie-Johnnie coverage page for daily updates.
Junior Noah Kaiser transferred to St. Thomas from St. John's after his freshman year to be closer to home and to play basketball as a Tommie.
As an athlete who has participated in the infamous Tommie-Johnnie rivalry, Kaiser understands how exciting Saturday's football game will be.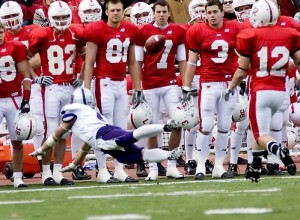 "The Tommie-Johnnie rivalry is always exciting, no matter which side you are on," Kaiser said. "It's definitely the one game each team has circled on their calendar for the season. The only difference going from St. Thomas to St. John's for me would be going from the underdog in basketball to the favorite, so to speak, but the rivalry is still just as anticipated by both teams."
This season, Kaiser will be at the Tommie-Johnnie game, on the St. Thomas sideline.
"I'll be rooting for the Tommies since I have some good friends on the team," Kaiser said. "I think it will be a close game again like last year, but I'll take St. Thomas 31 to 24."
Although Kaiser is now a full-fledged Tommie, other Johnnie transfers, such as senior Chase Burtis, are not so quick to declare their allegiance.
"The rivalry doesn't mean as much to me now that I'm the other side of the fence," Burtis said. "I have friends who play for both football teams, so it's hard for me to really get too into it."
Burtis may downplay the significance of the rivalry, but he'll still be in attendance at Saturday's game.
"The last two years the games have been some of the best I've seen for either team," Burtis said. "I will be cheering for my friends on both sides; the outcome of the game doesn't really matter to me."
Transfer students aren't the only ones who will be torn between teams Saturday. Terry Langan, associate dean of the college of arts and sciences, graduated from St. John's in 1980 but has been working at St. Thomas for 20 years.
"There are 365 days in the year, right? For most of those days, I consider myself a Tommie," Langan said. "Every once in a while that Johnnie comes out; it's usually a football Saturday."
Langan won't attend Saturday's game, because he said he's too conflicted. However, he did reveal where his bets lie.
"I have a standing bet with a colleague in history who graduated from St. Thomas," Langan said. "Every year, I put up a loaf of St. John's bread against his bottle of Celtic Springs water."
In the past, Langan's colleague always felt like the bet was unfair given the success of St. John's against the Tommies. This year, Langan said he disagrees.
"I think he's getting a good deal this year," Langan said. "I think it ought to be a case of water against my loaf of bread. I'm thinking the Tommies are going to do it."
Ryan Shaver can be reached at shav7005@stthomas.edu.