Senior Mike Hutton and the women's distance medley relay turned in strong performances for the St. Thomas track and field team at the Drake Relays in Des Moines, Iowa.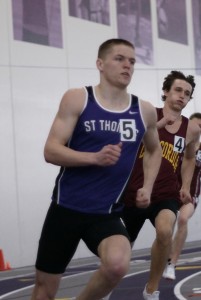 Hutton took second out of 10 runners in Saturday's 800-meter. Hutton ran 1:49.47, just .11 of a second behind the winner, Georgia senior Aaron Evans, and ahead of eight other Division I runners.
Hutton's time was just .02 of a second off his school-record time set seven days earlier at the Mt. SAC Relays.
As the Division III indoor 800-meter national champion, Hutton said he doesn't feel any extra pressure in big races.
"I'm still the underdog versus all those Division I All-Americans," Hutton said. "I'm still trying to stick my neck out there."
The distance medley relay squad of freshman Kayla Goeman, sophomore Emily Van Heel, junior Taylor Berg and senior Larissa Peyton took second out of 17 teams with a time of 11:49.40 on Friday. St. Thomas finished less than two seconds behind the first-place winners from Augustana.
Berg said she was impressed with her relay team's performance after placing fourth at the indoor national meet last month.
"We improved our time and just missed beating Augustana, who got fifth at the Division II national meet," Berg said.
Berg also ran on the women's 4-x-800 meter relay that finished third on Friday. Teammates Goeman, Peyton and sophomore Erin Sheehan also ran legs for the relay; their time was 9:12.24.
Berg described the weekend as "exhilarating."
"It was awesome being on the same track as Lolo Jones, Brian Clay and many other talented athletes," Berg said.
For the men's team, the 4-x-800 meter relay team placed sixth out of 21 teams, clocking in at 7:44.03. Senior Crawford Hubbell, freshman Doug Thoresen and freshman Doug Mueller ran the first legs of the race, and Hutton was the anchor.
Hutton said he was proud of his teammates, and they "ran great."
"The relay went pretty well," Hutton said. "We were hoping to run a faster time, but that's always the case."
Senior Ben Sathre finished third out of 31 runners Thursday in the 10,000-meter run. Sathre, the 2011 Division III cross country national champion, ran his 25 laps in 29:52.43, beating 13 Division I athletes. His time was the sixth fastest so far this spring in Division III. The first eight finishers were separated by just 12 seconds.
Sathre said his race went "OK" but was still ecstatic to compete at the meet.
"It's exciting to be running under the lights in such a prestigious stadium with such a distinguished field of athletes," Sathre said.
Both teams will be hosting meets this week; the men's team competes Saturday at the Meet of Saints, and the women's team competes Wednesday in the Tommie Twilight meet.
Hayley Schnell can be reached at schn3912@stthomas.edu.