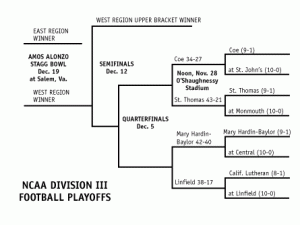 This Saturday's matchup appears to be a game between the nearly unstoppable force – St. Thomas' rushing attack – against the seemingly immovable object – Coe College's stout run defense.
The Kohawk defense allows about 97 rushing yards per game. Put that up against St. Thomas' 253 average yards per game on the ground and it'll be a battle of wills.
The heart of Coe's defense is the linebacking corps of seniors Tate Harrison, Calvin Thomas and Ross Yeast. The trio has accounted for 276 tackles this season. They are aided by freshmen defensive lineman Frank Weymiller, who has 82 tackles on his own.
On offense, the Kohawks rely heavily on quarterback Brad Boyle, who is first on the team in scoring with 16 rushing touchdowns. It's fair to say that Boyle is the linchpin of a Coe offense that averages about 31 points and 390 yards per game – the vast majority of which is gained through the air.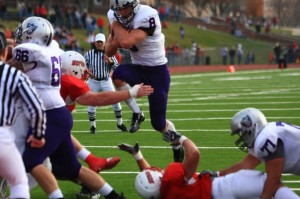 Behind Boyle in scoring is wide receiver Tyler Takes with nine touchdowns on the season. As far as scoring is concerned, the second most rushing touchdowns on the team is two.
Coe's air attack could give the Tommie defense some trouble as Monmouth threw for 361 yards in last week's game, but failed to punch the ball into the end zone while in scoring position in the second half. For the Tommies to win, Boyle must be stopped.
The Tommies have the edge with special teams as sophomore Fritz Waldvogel is the nation's best return man with six punt or kick returns for scores. He is also the freshly crowed MIAC Most Valuable Player, a feat no Tommie or no sophomore has ever completed.
As for the Kohawks? Coe hasn't scored on special teams – returning a punt or kickoff – all year.
Matt Wolfgram can be reached at mnwolfgram@stthomas.edu