Jon Lowery, a former professional soccer player in both the United States Soccer League and Major League Soccer, was hired as the new St. Thomas men's soccer coach in early April.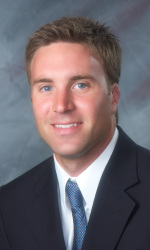 Lowery, an Apple Valley, Minn., native, was the men's soccer coach at Hamline University for the last three seasons and said he is looking forward to coaching at St. Thomas.
"I think there's a lot of talented kids in the program that I already know externally, and I'm looking forward to working with them internally," Lowery said. "I think the most exciting thing is to just kind of start a new chapter for the soccer program and to see where we can take it."
Lowery said a major factor that attracted him to St. Thomas was the school's sense of pride.
"I think the one thing that really attracted me to St. Thomas, and this is across the board, was that everybody I've met that was either at St. Thomas, worked at St. Thomas or is associated with St. Thomas had so much pride in the product," Lowery said. "I think the other side of it is that it has the resources, it has the support and it has the opportunity to really bring in top talent and be successful."
Lowery's soccer career started at a young age. In 1994, he was named the Gatorade Minnesota High School Player of the Year. In college, Lowery was a standout goalie at Ohio State University and was chosen first team All-Big Ten twice (in 1997 and 1998), the first player in the program's history to do so.
He graduated from OSU in 1999 with a Bachelor's of Arts degree in communications.
He began his coaching career as an assistant coach for the University of Massachusetts-Amherst men's soccer team while pursuing a master's degree in sports management. After two seasons in Massachusetts, Lowery returned to his alma mater as an assistant coach in 2005 and 2006, guiding the Buckeyes to a Big Ten championship and an NCAA tournament berth.
In 2007, Lowery made the move to Wake Forest University as an assistant coach before returning back to Minnesota in 2009. In Lowery's three seasons at Hamline, the Pipers went 16-34-3.
Lowery said he's going to get to work right away and has some immediate goals for the team.
"I think immediately to get to know the guys, and to see where we're at, and to see what we need and to create a culture with new standards and expectations. I think that's the immediate goal. I think the long term goal is to position ourselves to be capable of winning a MIAC championship," Lowery said.
Junior defender Thomas Metzler said he has met Lowery and believes he will be instrumental in a successful upcoming season for the team.
"I think he's going to be awesome," Metzler said. "He loves the opportunity to coach St. Thomas, and I feel like he is going to put in a lot of effort into this job because he knows the challenge we have. He's going to put as much effort into it as he possibly can to put us at the top of the MIAC."
Briggs LeSavage can be reached at lesa4364@stthomas.edu.