The St. Thomas men's golf team is gearing up for the season, and coach Scott Proshek is optimistic.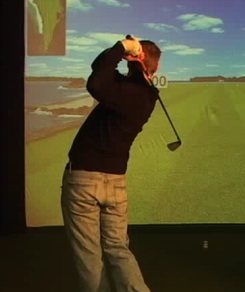 "I'm feeling really good about it," he said.
The Tommies won a decisive victory at the Transylvania Invite in Lexington, Ky., last fall.
"Due to our win last fall in Kentucky, we positioned ourselves nationally so that this spring we need to have a better record in our region," Proshek said.
Proshek stressed strong conference play as an important part of the season. St. John's won the conference championship in the fall, but the Tommies will look to make the NCAA tournament with a strong conference showing.
"We have four returnees from a fairly strong fall season," Proshek said. "We have to compete very well against Gustavus, St. Olaf and Concordia also."
The players are also optimistic about the approaching season.
"I feel pretty good, actually," senior Grant Shafranski said. "With the simulator, we have been able to keep our muscles in shape, and hopefully there isn't too much of a drop-off from playing in the fall."
Shafranski said he believes training is different for golfers who are not in a warm climate year-round.
"You get used to it, living up north," Shafranski said. "A while after the snow starts to melt, you start to get the itch and come out with a lot of passion and ready to play."
He added, "We are our biggest competition this season. We have the talent and ability to play with anybody. It's up to us whether or not we can perform on the golf course."
To prepare for the short season, eight members of the team traveled to Arizona to play a few rounds on real grass. St. Thomas alumni and friends helped arrange tee times for the team and hosted dinners and lunches.
"We got some good work in down there," Proshek said. "We saw a lot of talent, and it will make picking the five guys we want for competition harder, but that's a good thing."
The fact that no courses are open yet will make a short season even shorter. The team's first competitive match is Saturday, April 9, and it is "coming down to crunch time," Proshek said.
"The fact that there is snow on the ground, that creates a gap from what we worked on in Phoenix," Proshek said.
He added, "The guys were not able to get out onto a course right away after returning from Arizona, and that's tough."
The team will continue to use the simulator and try to get on an outdoor driving range as soon as possible.
Drew Landon can be reached at land7305@stthomas.edu.