Women's soccer misses playoffs despite thrilling victory
The St. Thomas women's soccer team's 1-0 victory over Bethel was not enough to put the Tommies into the MIAC playoffs on the last day of the regular season. Senior defender Brittany Cochlin's goal in the second overtime period Saturday was her second goal of the season.
Sophomore forward Hannah Pawlik tallied the assist.
"It was a total team effort," Cochlin said. "It was great to score the winning goal, but it was team effort."
St. Thomas needed a combination of the following to happen to make the MIAC playoffs: a St. Olaf loss to Carleton, a Macalester loss to 11th-place Gustavus, or an Augsburg loss at home to 12th-place St. Mary's. None of the outcomes took hold, leaving the Tommies on the outside looking in.
Cochlin said it was a bittersweet ending to the season and her career.
With the win, St. Thomas finished the season 7-9-2 overall and 5-4-2 in the MIAC. The Tommies finished with a 4-1-1 home record.
Men's soccer advance to MIAC playoffs Tuesday
The St. Thomas men's soccer's 5-0 victory over Bethel helped the team advance into the four-team MIAC playoffs. Junior forward Nick Rapisarda (2), senior defender Brett Day, sophomore midfielder Michael Eigenmann and freshman forward Ryan Bernhardt each tallied Tommie goals.
The Tommies were coming off two consecutive losses to co-conference winners Gustavus and Carleton.
"We had a rough two games and really wanted to get back to playing Tommie soccer," junior midfielder Alex Bernhardt said.
Bernhardt said "everyone's really excited" to be in the playoffs.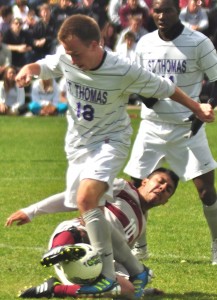 "For most of us on the team, it's our first time," Bernhardt said. "It feels great."
The Tommies finished the regular season with 22 points in the MIAC and a 11-4-3 overall record. Rapisarda finished an impressive regular season with 13 goals.
St. Thomas advances to the MIAC playoffs Tuesday as they travel to Gustavus for a 2 p.m., showdown with Gustavus in St. Peter, Minn. Stay tuned to TommieMedia for full game coverage.
Berg leads women's cross country at MIAC championship
Senior Taylor Berg clocked 21:39 to win the individual title at Saturday's MIAC women's cross country championship meet at Como Park in St. Paul Saturday. Teammate Erin Statz placed sixth and the Tommies placed fourth overall behind surprise champion Gustavus.
All-American Berg pulled away from the other runners near the end of the race and won by 15 seconds.
"I think we did very well as a team," Berg said. "We have had a few injuries … out of our top seven, five are dealing with injuries right now."
The NCAA central regional meet will take place Nov. 10, at St. Olaf.
"It's going to be tough," Berg said. "We got Carleton and St. Olaf again, but all of the MIAC is in our region."
Men's hockey starts season with win, loss and tie
The St. Thomas men's hockey team opened its season with a 3-0 victory over Augsburg Friday. The team also had an exhibition match against U.S. National Under 18 team, losing 8-1. The Tommies finished the weekend with a 2-2 tie against St. Olaf Sunday.
Against Augsburg, senior forward Brandon Bahnemann, freshman forward Nick Nielsen and sophomore forward Alex Altenbernd each scored the goal for the Tommies. Sophomore goalie Drew Fielding got the shutout victory, stopping all 16 Auggie shots.
"It feels really good," Bahnemann said. "It was a great win for the boys to start off the year strong."
St. Thomas attempted to hold its own against the U.S. Under-18s, which included committees to the University of Minnesota, University of Michigan, and Boston College.
"It was an honor to play the U.S. team and we didn't get the outcome that we wanted, but it's going to make us a better team," Bahnemann said.
Men's cross country team places second at MIAC championships
The St. Thomas men's cross country team placed second at MIAC Championships at Como Park Golf Course in St. Paul Saturday.
Sophomore Keaton Wendroth lead the Tommies with a seventh place individual finish in a time of 25:49.
The Tommies finished second (97 points) behind champion St. Olaf (54). St. Thomas narrowly edged out Bethel (101) and St. John's (103) for second.
Men's swimming and diving places well at home meet
Sophomore diver Nick Johnson won the one meter (254.70) and three meter (272.20) boards to lead the Tommies at Saturday's non-team scored St. Thomas Relays meet.
The Tommie 300 fly relay team of junior Matt Rippentrop, senior Ben Ruhme, sophomore Evan Eklund and freshman Mike Lanz won in meet-record time of 2:32:41.
St. Thomas next competes at the Hamline Invite Saturday.
Relay team spark women's swimming and diving
The St. Thomas 300 fly relay team won Saturday to lead the Tommies in the non-team scored St. Thomas Relays meet.
The relay team of junior Averi Splinter, freshman Anna Jeska, freshman Abbie Anderson and sophomore Mariann Kukielka finished with a time of 2:59.16.
Sophomore diver Katherine Becker took third in one-meter diving (189.10 points).
The Tommies next compete Saturday at the Hamline Invite.
Jesse Krull contributed to this report.
Ross Schreck can be reached at schr8250@stthomas.edu.