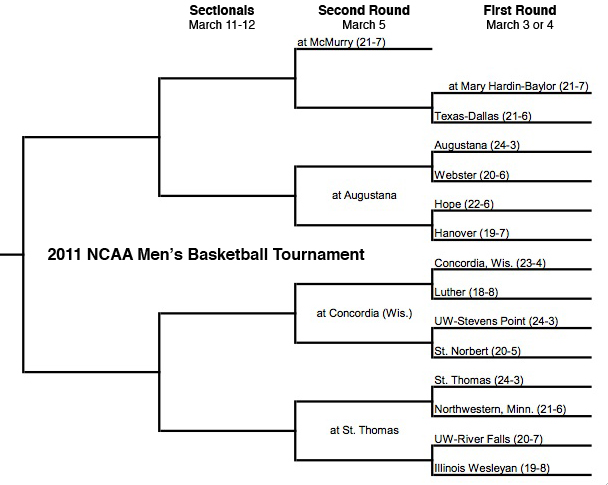 It takes two to do the "Schoenecker Shuffle," but when the music starts in the arena Friday night, St. Thomas may have to take the lead because its partner has never danced.
The Northwestern Eagles, who will take on St. Thomas in the first round of the NCAA men's basketball tournament, are in "The Dance" for the first time in school history.
"They've been in other national tournaments," coach Steve Fritz said. "It's not the same as the NCAA tournament. They'll be very excited."
While Northwestern is punching its first tournament ticket, St. Thomas is making its sixth straight appearance.
"We've been here," senior Anders Halvorsen said. "We kind of know what to expect and what we need to do to make a deep run."
Any run, deep or not, will have to start with a win against Northwestern. The Upper Midwest Athletic Conference champion has captured the conference title four of the last five years and boasts a 3-point shooting percentage of nearly 40 percent. The Eagles are bringing a 14-game win streak into the tournament.
"They shoot the ball awfully well, and they defend well," Fritz said.
The Eagles' defense will be tested against St. Thomas' front line. Northwestern's roster doesn't hold anyone over 6-foot-5 who has had significant playing time this year, meaning St. Thomas' 6-foot-9 Halvorsen, 6-foot-8 junior Tommy Hannon and 6-foot-6 sophomore Josh Pedretti will be expected to produce.
"We'll work inside out," Halvorsen said. "We'll try to take advantage of that as much as we can."
On the outside will be a point guard battle between Northwestern senior Brian Lecheler, the Upper Midwest Athletic Conference Player of the Year, and Tommie All-American senior Tyler Nicolai. Lecheler comes in averaging just less than 11 points and 5.6 assists per game compared to Nicolai's 13.9 points and 3.3 assists per game.
Northwestern will look to slow St. Thomas' guard rotation with leading scorer Wade Chitwood, a sophomore who has averaged 13.5 points per game while shooting almost 50 percent from the 3-point line this season. Sophomore Tom Gisler compliments Chitwood on the offensive end with just less than 12 points per game.
"We'll be ready for whatever they throw at us," Fritz said.
Senior experience
St. Thomas' seniors should be ready for just about anything. Nicolai, Halvorsen, Alex Healy, Teddy Archer and Brady Ervin have 20 combined NCAA appearances.
Fritz said the team will look to the seniors for leadership throughout Friday's game and potentially deep into the tournament.
"They've got to be [big]," Fritz said. "They've been here before, and this is their last chance to go around."
Halvorsen said he wants this year to be different than last.
"It's one last shot. We definitely have to come in there and be aggressive," he said. "Last year was kind of disappointing, losing in the first round, so we just want to stay focused and see what we can do."
Jordan Osterman can be reached at jrosterman@stthomas.edu.