Junior forward Tommy O'Donnell's first-period goal sparked life into the St. Thomas men's hockey team   (3-2) Friday night and helped lead the team past Augsburg (2-1-2) 2-1.
After an earlier goal was disallowed due to a penalty, O'Donnell put back a rebound for his first goal this season.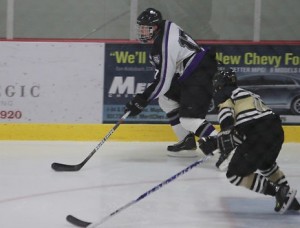 "Getting that first goal's the hardest," O'Donnell said. "Hopefully the flood gates open up a little bit now."
The Tommie celebration didn't last too long. Seconds after the goal, freshman Tommie forward Bryce Walker was ejected from the game for checking from behind.
"He probably deserved [the penalty]," coach Jeff Boeser said. "It was a little bit of acting by their player, because all of a sudden he's out there the next shift."
Augsburg's power play was short-lived after senior Auggie forward Jim Jensen was called on a slashing penalty, leaving both teams with players in the penalty box when the first period ended.
The Tommies opened the second period the way they closed the first: with a goal. Three minutes into the second, junior forward Matt Lipinski ripped a shot past sophomore Auggie goalkeeper Justin Lochner for Lipinski's fifth goal of the season. Lipinski leads the Tommies with six points this season. Freshman Tommy Westmark and junior Chris Hickey had assists on the play.
"I don't think [Lipinski] has reached his potential yet," Boeser said. "It's all about learning to have fun again for him. We expect that out of him all season."
Lipinski is in his first year with the Tommies, after playing Division I hockey last season for Northeastern University.
The story of the night was freshman goalie Geoff Sadjadi, who was nearly flawless in holding an opportunistic Augsburg squad to only one goal. That goal came with thirty seconds remaining in the third period when junior forward Nick Guran found the net.
Sadjadi came into Friday's game giving up an average of 3 goals per game, including 5 goals in a game versus St. Olaf.
"I can't really fault him for last week," Boeser said. "I thought he played really well."
The young goalkeeper looked comfortable in the net all evening though, and made an acrobatic glove-save midway through the second period to keep the Auggies off the board.
Friday's victory ends a two-game slide for the Tommies and was the team's first home victory of the season.
"We didn't bring it the past weekend," O'Donnell said. "This game was a really big game for us because we had to show we can come out and bring it every night and win at home."
Augsburg will get a chance for redemption Saturday night at 7 p.m. on its home ice.
"They're going to be coming with a lot of resolve," Boeser said. "We have to bring the same intensity as tonight, maybe a little more.
"We don't know what we have yet, but we like what we see every game. We're still a fairly young team. We're not at all satisfied with tonight. I mean, we're happy with the win, but we have to come out with the same type of energy tomorrow."
Ryan Shaver can be reached at Shav7005@stthomas.edu.