Five players scored for the St. Thomas men's hockey team (8-3-2) as it defeated St. John's (3-6-2) 5-3 on Saturday, Dec. 10, in Waconia.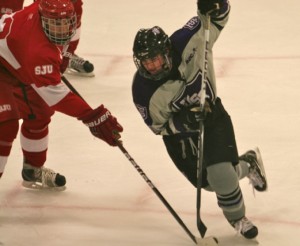 The game's location might have been a neutral spot for the non-conference game, but that did not stop fans from packing the stands to support a Waconia native, St. Thomas junior forward Chris Leivermann.
"It was awesome coming back playing in front of my friends and family like the old days," Leivermann said. "It was a lot of fun."
Leivermann, who started for the Tommies, was greeted with cheers when his name was announced before the game.
"It fired me up. I got a little overly excited sometimes, but I managed it pretty well," Leivermann said about the atmosphere at the Waconia Ice Arena.
St. Thomas opened the game strong with assistant captain senior Matt Lipinski scoring a power play goal minutes into the first period. Freshmen forwards Alex Altenbernd and Chris Cass were credited with assists on the play.
Cheers erupted throughout the arena once again for Leivermann as he made an assist to junior Spencer Brendel, who scored his first goal of the year, giving the Tommies a 2-0 lead with five minutes left in the period.
"I'm just trying to be a spark plug out there. But if I can get a goal, that's always a plus," Brendel said.
Junior forward Brandon Bahnemann followed Brendel's goal seconds later with one of his own, giving the Tommies a 3-0 lead at the end of the first period.
St. Thomas started the second period on a power play because St. John's got a penalty for cross-checking at the end of the first period but could not capitalize. St. John's remained scoreless throughout the second period, while St. Thomas continued to pressure the Johnnies.
Cass scored St. Thomas's fourth goal of the game with 13:46 left in the second period.
Within two minutes, junior defender Anthony Moser added another goal for the Tommies, making it a 5-0 game.
"Our first two periods were really strong, and we had some really good pressure," Brendel said.
In the beginning of the third period, St. John's finally got on the scoreboard.
St. John's second goal came with 16:47 left in the third period to make the score 5-2, and the Johnnies added another goal with 11:06 left in the third.
"We haven't had a lead like this all year," Coach Jeff Boeser said. "I don't think our kids knew how to handle that, and we talked about it in between periods. Talking about it and getting out there and doing it is two different things."
The Tommies were able to hold the Johnnies to three goals and come away with a victory.
"We got a lot of energy from our bottom two lines," freshman goalie Drew Fielding said. "Obviously getting three goals in the first period is going to put your team in a good position to win, and we did a great job defensively."
Leivermann added, "We mustered out a win. That's what good teams do."
Olivia Detweiler can be reached at detw5520@stthomas.edu.