Goals by junior forward Nick Rapisarda and junior defender Kit Weaver guided the St. Thomas men's soccer team to a 2-0 victory over Northwestern College (Minn.) Tuesday, Sept. 4 at home.
First-year coach Jon Lowery thought the large crowd assisted the Tommies' offensive attack in their home opener; St. Thomas outshot Northwestern 25-1 and dominated ball possession.
"It gave me goosebumps," Lowery said. "The guys were a little bit nervous."
The Tommies' stout defense and midfield rarely let the ball across the midfield line throughout the game. Weaver anchored the Tommie defense.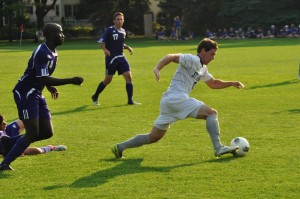 "Kit did a tremendous job," Lowery said. "Weaver is quarterbacking the back line and getting chances for the whole team."
Rapisarda came through with one of those chances, scoring in the top right corner in the 16th minute. Junior midfielder Macalister Enderson assisted.
It was Rapisarda's second goal of the season.
"The first goal is always to get over that threshold," Rapisarda said.
Weaver not only led the defense, but came through on a corner kick from Enderson in the 51st minute with a header that went straight to the back of the net.
"I just had to make sure I got it on frame because 99 percent of the time I blast that over the net," Weaver explained.
St. Thomas' sophomore goalkeeper Mitchell Wolff tallied his first shutout of the season.
The win moves the team to 2-0-1 on the season, following a 2-2 result against Puget Sound College (Wash.) and a 2-1 victory over Santa Cruz College (Calif.) at the Gustie Classic tournament.
The Tommies will go for their third consecutive win Sunday, Sept. 9, against the University of Minnesota-Morris at the South Campus Athletic Fields.
Jesse Krull can be reached at krul7386@stthomas.edu.