The St. Thomas football team will travel deep into Illinois, six hours southeast of campus, to face its first round NCAA playoff opponent.
Monmouth, which is located about three hours southwest of Chicago, is a town of around 9,000 and home to the Monmouth College Fighting Scots.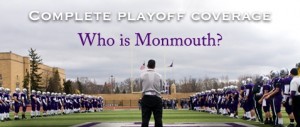 The school holds an enrollment of just under 1,400, about a quarter the size of St. Thomas' undergraduate enrollment. The school fields 20 varsity teams in most of the major sports and boasts a varsity football roster of 102 players.
Both eighth-seeded Monmouth and 10th-seeded St. Thomas will be required to cut their roster down to 52 for Saturday's game.
Monmouth plays out of the Midwest Conference, which features schools of comparable size such as Beloit College (Wis.), Grinnell College (Iowa) and Ripon College (Wis.).
On the football field this season, the Scots repeated as conference champions, its third conference championship in five years. Before 2005, Monmouth had not won a conference championship since 1976.
Coach Bell turned the team around
Much of the credit for the Scot's resurgence as a perennial contender falls to coach Steve Bell, who took over the program in 2000. Bell received the conference Coach of the Year award last season as he led the Scots to the second round of the NCAA playoffs.
Monmouth enters the game with a 78-25 record in Bell's 10 seasons, which ties him as the winningest coach in Monmouth history. His teams are 21-1 over the last two seasons with a perfect 20-0 record in regular season play.
Scots all about the offense
Much of the No. 8-ranked Scot's success has stemmed from the offense, as Monmouth sports the nation's second-best scoring average in the country, posting 47.7 points per game. Junior quarterback Alex Tanney leads the offense, throwing for 42 touchdowns this season with only seven interceptions.
With more than a full season left to play, Tanney already holds the school's career passing records for most yards and touchdowns thrown. His primary target has been sophomore wide receiver Matt Sheperd, who recently broke the school single-season receiving record this year with 948 yards.
St. Thomas will travel to Monmouth Friday and prepare for a noon kickoff on Saturday, which will feature the first matchup in history between the two schools.
Jordan Osterman can be reached at jrosterman@stthomas.edu