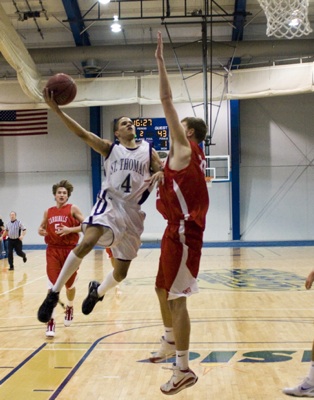 St. Thomas junior guard Tyler Nicolai was named 2009-10 Minnesota Intercollegiate Athletic Conference Player of the Year Thursday afternoon.
"It's an honor to be named player of the year," Nicolai said via text message from the team bus to the first round of the NCAA tournament in Kenosha, Wis. "It's a good feeling, but I have to credit my teammates and coaches."
Nicolai led the Tommies this season with 13.8 points and 1.9 steals per game. He also held a team-best assist/turnover ratio (2.65) and shot a team-high 48.7 percent in conference play.
In the MIAC conference, Nicolai ranked second in steals, seventh in scoring, 10th in field goal percentage and 13th in free throw percentage. He also shot 43.7 percent from the 3-point line and was second in the MIAC in 3-point field goals per game.
Senior guard Joe Scott and junior guard Alex Healy shared some of the spotlight with Nicolai, as all three were named to the MIAC All-Conference team. Nicolai was also named to the All-Defensive team alongside senior guard Teddy Archer. Sophomore guard Peter Leslie was named to the All-MIAC Sportsmanship team.
"There are a lot of good players in this conference," Nicolai said.
The men's team travels today to Kenosha, Wis., to take on No. 23 Anderson University Friday in the opening round of the NCAA tournament.
The MIAC women's All-Conference team included St. Thomas junior center Rachel Booth and sophomore forward Ali Johnson. Rachel Booth was also named to the All-Defensive team. Sophomore guard Jordyn Sears was an All-Conference honorable mention.
The women's team will travel to Whitewater, Wis., to take on the Wisconsin-Whitewater Warhawks Friday in NCAA action.