The St. Thomas men's basketball team will take on the College of Wooster (31-2) at 2:30 p.m. Saturday in the NCAA Division III national championship game in Salem, Va.
Wooster is a liberal arts college in Wooster, Ohio, that enrolls about 1,800 students. The Fighting Scots have knocked off Benedictine (Ill.) University 74-68, Manchester College 47-45, Cabrini College 94-77, Whitworth University 76-66 and Williams College 73-71 on their way to the national title game. Wooster came back from a 17-point deficit Friday against Williams with less than nine minutes left.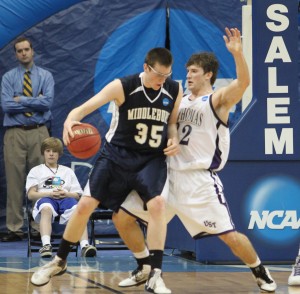 As a program, Wooster has a 24-20 NCAA tournament record in 20 appearances. 2011 marks the team's third trip to Salem for the Final Four. The Fighting Scots also are two-for-two in national title games, winning back-to-back Division III championships in 2004 and 2005.
The Fighting Scots have built a reputation as a tough-minded defensive team, and this year's team is no different. Wooster has held opponents' field goal percentage to just less than 38 percent per game, marking the 18th time in school history the Fighting Scots have limited their opponents to less than 40 percent shooting on the season.
The Fighting Scots are led by senior guards Ian Franks and Nathan Balch along with junior forward Justin Hallowell. Franks, who scored 24 points Friday and carried the Fighting Scots before fouling out late in the second half, has averaged 16 points, five rebounds and almost four assists per game in the tournament. Hallowell, a 6-foot-7 forward, boasts a double-double tournament average with 15 points, 10 rebounds and three assists per game. Balch has also chipped in around 12 points per game during the tournament.
The Fighting Scots average nearly 77 points per game and have a victory margin of nearly 14 points. The team also grabs nearly 40 rebounds per game. Offensively, the Fighting Scots have shot 48 percent from the field this season, including shooting nearly 40 percent from the 3-point line. Wooster also collects nearly eight steals per game.
But the Fighting Scots will be facing one of the toughest defenses they've seen all season in St. Thomas. The Tommies' full-court press has helped cause 76 turnovers for opposing teams in their last five games.
Offensively, St. Thomas is averaging nearly 74 points per game, shooting just less than 50 percent from the field and connecting on roughly 38 percent of its 3's. The Tommies average nearly 17 assists and 11 turnovers per game and have a +3.3 turnover margin.
The Tommies are led by senior guard Tyler Nicolai's 14.6 points per game and senior guard Alex Healy's 13 points per game. Junior forward Tommy Hannon, who scored 11 points and grabbed five rebounds Friday, leads the team in rebounding (6.7) and field goal percentage (59.1 percent).
The Tommies likely will use more bench players, coach Steve Fritz said Friday night after the game and will look for more tough defense and 3-point shooting from sophomore John Nance and junior Peter Leslie. Senior Brady Ervin, who had 10 points, five steals, two assists and a block in the Final Four, will be looked to continue doing a little bit of everything.
Saturday's national championship game will be the Tommies' first in school history.
Miles Trump can be reached at mttaylorjohn@stthomas.edu.