Forward Nick Rapisarda was named the MIAC men's soccer Player of the Year after leading the league in goals (10) and points (22) in conference matchups, and being a key factor in the Tommies' first playoff run since 2009.
Rapisarda said the award came as a big surprise that was never on his radar.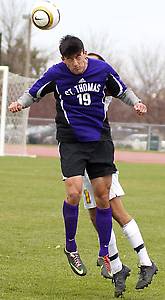 "I was honestly extremely surprised," Rapisarda said. "Usually the best player from the team that wins the conference usually gets it every year. I wasn't expecting anything at all. I still can't believe it at this point."
Rapisarda is the first St. Thomas player to receive the honor in 18 years.
"It's a long time," Rapisarda said. "I'm glad that I can represent St. Thomas and bring that back here, at least for a year."
The junior led his team to an 11-5-3 overall record and a 7-2-1 record in the MIAC, although the team lost in the first round of playoffs to Gustavus 1-0.
In addition to his Player of the Year honors, Rapisarda was named to the All-MIAC Team for the third-straight season. Rapisarda said his team was a deciding factor in his honors.
"Our record was much better, and we just played as a team," Rapisarda said. "The individual awards are obviously nice but I think us doing better as a team really allowed me to get that award."
First-year coach Jon Lowery said Rapisarda's award was not only a testament to his skill, but the team's as well.
"It's a great honor for Nick, but I think bigger than that it embodies the work we did as a team to have one individual honored that way," Lowery said. "We should be happy for Nick, but it's a greater testament for what we did as a team to put somebody in that position."
Outside of soley MIAC matchups, Rapisarda scored a cumlative 13 goals, and 29 points during the 2012 season accompanied by 68 shots, 34 shots on goal and three game-winning goals, all of which ranked in the conference's top five.
Defender Brandon Gatzke said although Rapisarda is a standout individual player, his talent also translates into teamwork on and off the field.
"I think Nick is really about team chemistry," Gatzke said. "In the locker room he's always making sure that everyone is upbeat and ready to go for games and in practice situations as well."
Gatzke said because the team gelled so well this season, the players were able to work with Rapisarda and put him in successful positions to make moves for the team.
"I think it came down to work ethic, but this year as a team we competed together. We really tried to make sure that we put him in good situations where he could either pass to someone else or score," Gatzke said.
As far as next season goes, Rapisarda said he is looking forward to bigger and better achievements for himself and the team.
"We are only losing one senior, he was a valuable asset to the team but … we have a strong class of seniors returning next year. It is very possible that we will do better next year," Rapisarda said.
Lowery said Rapisarda's best is yet to come.
"It's a great honor for Nick, but I think that he would rather be on the MIAC championship team," Lowery said. "That's something we're really going to work towards to build off a great junior year."
Jesse Krull and Andrew Eisele contributed to this report.