[slidepress gallery='tomcattwilight']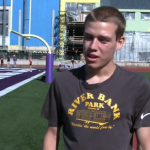 Sophomore Ben Sathre's second-place finish in the 5,000 meters led the men's track and field team at Friday's Tomcat Twilight meet at St. Thomas.
St. Thomas surrounded itself with premier competition, as athletes from the University of Minnesota, University of Minnesota-Moorhead, Minnesota State University-Mankato, several MIAC schools and top unattached runners competed.
"It's a great chance for everyone to see how well we can compete against top guys," freshman Eyo Ekpo said. "We can hang with them stride for stride."
Sathre's performance was good for an NCAA provisional qualification, and several athletes for St. Thomas notched quality times in the non-team scored event. Sophomore Mike Hutton finished third and senior Greg Dowe finished fourth in the 800 meter race. The two helped St. Thomas finished fourth in the 4×100 meter relay and the 4×400 meter relay.
Ekpo took fourth in the triple jump, senior Sam Moen took sixth in the 100 meter and senior Patrick Jager finished sixth in the 400 meter.
St. Thomas is coming off strong results at the end of the indoor season. St. Thomas won a 26th-straight indoor conference championship, but had to grind it out to the final relay before securing the title.
"It was the closest conference meet in school history," Ekpo said. "That was definitely a lot of fun."
After a short break following the indoor season, the Tommies turned its attention toward repeating last year's success when the team finished third in the nation in outdoor.
After a trip to California over spring break to start the outdoor season, the Tomcat Twilight marks the only home meet of the season for St. Thomas. With less than one month until the MIAC Championships, athletes have to make the transition from indoor to outdoor very quickly.
"The outdoor season is so short that there is really no time to relax," Jager said. "We have to get after it right away in order to see the results we want at the end of the season."
Last season's result was the best team finish for St. Thomas since 1993, with national championships brought home in the 4×100 and 4×400 relays. Despite graduating some top athletes from last year's team, Jager is confident the Tommies can make up for it.
"Younger guys are stepping in and filling those roles, giving us a good shot at making it back to the national level," Jager said.
In his final season as a Tommie, Jager hopes to qualify again this season in the 200 and 400 meter dashes and to have a chance to perform on the national stage.
St. Thomas will compete every weekend through the rest of the school year and will be in action April 21 at the Macalester Twilight meet.
Jordan Osterman can be reached at jrosterman@stthomas.edu