Junior Ben Sathre ran his way into the record books Saturday, further solidifying himself as one of St. Thomas' best cross-country runners of all time.
In a deep field of 279 participants, Sathre came in second place at the NCAA Division III national championship race. With a time of 24:23, Sathre defeated the 2008 NCAA champion and came within one second of capturing the national crown.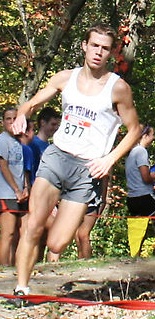 "It was incredible," Sathre said. "It's an incredible high to beat some very respectable people that I've watched and followed the last couple of years."
Improving 24 spots from his 2009 finish, Sathre's time was the third-fastest 8K in St. Thomas history. He became the first Tommie two-time men's cross-country All-American in the last decade.
"My goal at the beginning of the season was to win the national meet," Sathre said. "It was probably pretty unrealistic at the beginning of the season, but I set really big goals and did everything that I could to get there."
As St. Thomas' only representative at nationals, Sathre battled "the stress of everyone looking at you to see what you can do." However, he worked on staying relaxed, and the nerves faded fast as he came out of the gates strong.
"The first mile seemed real easy. I just felt really good," Sathre said. "That really boosted my confidence, and I pretty much knew then that I was going to do some damage."
Fighting fatigue down the final stretch, Sathre outpaced five runners over the last 250 yards.
"I started to fall back a little bit, and I kind of thought I was losing it," Sathre said. "I just tucked right back into the back of the pack and drafted to save a little energy. With about a quarter mile to go, I knew I'd be able to get back up to the front and have a chance of winning it."
Journey to nationals
Sathre did not start running cross-country until his junior year at Chaska High School. He never cracked the top 50 at the Minnesota state meet. Influenced by his sister's success and his "sharing of the same genes," Sathre chose to run at St. Thomas after being overlooked by Division I schools.
"In high school, [Coach Wareham] came to my school and said all of this stuff about how I could be a part of something here, both athletically and academically," Sathre said. "That's what really drew me in."
Wareham said he could sense right away that Sathre was a "real bright guy" and was "very goal-oriented," and those attributes have been essential in Sathre's development.
"In our sport, a lot of it has to do with the mental side," Wareham said. "It's about just how tough you are and how competitive you are, and if you're the type of guy who can create your own success and take the initiative, you'll be good. I think that's what Ben has done."
At St. Thomas, Sathre began to realize his potential. Upping his mileage in practice and constantly working to improve his form, Sathre broke through in 2009, placing third in the region and 26th at nationals.
This season, Sathre dominated, winning four invitational meets and the NCAA Central regional. Wareham said Sathre is "clearly the best cross-country runner I have coached in the past 18 seasons," and with so much success as a junior, Sathre will be working hard this off-season to take the next step.
"I think I still have a little work to do on making my form more efficient," Sathre said. "I'm still a low-mileage guy, only doing 70 to 80 miles a week, compared to some guys who do well over 100. I'd like to get my mileage up, and see what I can do.
"I think that if everything goes as planned, and I stay healthy, I think I should be pretty hard to beat next year at the national level."
Capturing a national championship next season isn't Sathre's only long-term goal. After his collegiate career comes to a close, he said he hopes to continue pursuing his passion.
"If you're passionate about something, you're going to be good at," Sathre said. "Some people don't like the pain, but I just thrive on it. To be honest, I'd love to go for the Olympic trials. I just started four or five years ago, and I think they say it takes 10 years to develop as a professional runner, so I'd love in 2016 to be going after the Olympics.
"There's no reason not to try."
Ryan Shaver can be reached at shav7005@stthomas.edu.