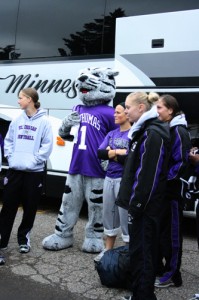 The No. 24-ranked St. Thomas softball team hit the road Wednesday morning to continue their quest to bring home the school's third national championship of the decade.
The sixth-seeded Tommies (37-6) are headed to Indianola, Iowa, to play the third seed in the tournament and No. 14-ranked Simpson College (31-1), at 4 p.m Thursday.
St. Thomas has won 35 of its last 37 games and the teams' 37 wins are tied for second best in Division III. St. Thomas lost one conference game during the regular season and is currently riding a 17-game win streak.
This will be Simpson's 14th NCAA tournament appearance in school history. The Storm won the Iowa Intercollegiate Athletic Conference regular season title for the first time since 2000 but then went on to lose to Luther College in the championship round of the conference tournament.
The winner will of the St. Thomas-Simpson game will play at 6 p.m. Friday in the winners' bracket game against the Illinois Wesleyan-Fontbonne winner. The loser plays the Illinois Wesleyan-Fontbonne loser in a 2 p.m. elimination game Friday.
Ben Katzner can be reached at bekatzner@stthomas.edu.