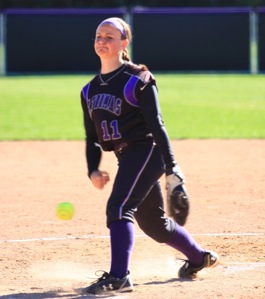 Senior Marta Radcliffe led St. Thomas on the mound and at the plate Sunday as the Tommies won the MIAC championship 4-0 over Gustavus in Mankato. The win marks the seventh straight year St. Thomas has won the conference championship, earning an automatic bid to the national tournament.
Radcliffe gave up only one hit, a single in the fifth inning, and never allowed a Gustavus runner to advance to second base. She helped her own cause at the plate as well, going two-for-three with an RBI.
"It felt good," Radcliffe said. "A big part of it is just stepping on the mound and getting the job done."
Radcliffe was thrown out at home in the third inning, but the Gusties were unable to get out of the inning without damage. The Tommies loaded up the bases after senior Alison Wright walked. Then sophomore Rachel Tondryk singled and sophomore Kayla Boward walked to break the game open 2-0. St. Thomas tacked on a run in the fourth and the sixth, which turned out to be well more than Radcliffe would need.
Radcliffe spoke of how dangerous a team Gustavus is after they finished third in the nation last year.
"If anyone can beat us, it's them," Radcliffe said.
St. Thomas is now 21-0 in the seven-year history of the conference playoffs.
The Tommies regional opponent will be announced Monday afternoon.
Jordan Osterman can be reached at jrosterman@stthomas.edu.