After a record-breaking 12-1 football season, the St. Thomas athletic department set another milestone Sunday afternoon, this time showcasing its rich tradition.
Since the early 1900s, St. Thomas has established itself in athletics and academics, but after the men's basketball team defeated Gustavus in the MIAC finals, St. Thomas became the first Division III school to win 1,500 men's basketball games, 1,000 men's hockey games and 500 football games.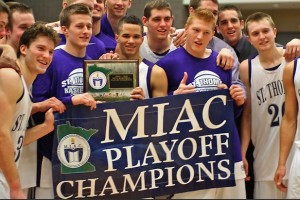 "It shows that you're not a one-horse program," said Steve Fritz, athletic director and men's basketball coach. "The No. 1 thing you have to have is good student athletes. I've been here for 44 years, and I've known a lot of people who played way back in the 1930s and '40s and that seems to be the consistent thing. There were always great eras of great student athletes all the way through."
St. Thomas athletics have experienced plenty of success through the decades. The men's basketball team has won the MIAC title 26 times dating back to the 1923-1924 season under coach Joe Brandy. The Tommies have qualified for the MIAC Tournament a league-high 24 times under Fritz and are currently riding a streak of six consecutive NCAA tournament appearances.
St. Thomas ranks fourth on the all-time wins list for Division III men's basketball with 1,500 wins. St. Thomas trails Wittenberg (1,627), Wooster (1,554) and Illinois Wesleyan (1,501).
"It's not a new, on-the-scene type of success," football coach Glenn Caruso said. "It shows that there is some staying power at this university as well. I think it's a credit to the entire athletic department over the last half century."
The men's hockey team leads all Division III teams with 1,030 wins. The only other school with more than 1,000 victories is Middlebury College (1,008). The Tommies have won 29 conference championships, including 13 in the last 22 seasons. St. Thomas placed first or second in the MIAC 45 times and has posted 29 consecutive winning seasons.
"Men's hockey was pretty average for a spell there, and then in the early '80s, we had 29 consecutive winning seasons," Sports Information Director Gene McGivern said. "That's going to rank up there in any sport. That consistency factor is there."
After posting the most wins in school history this past year, the St. Thomas football team increased its all-time win total to 536. St. Thomas ranks as one of the top 25 Division III football programs in all-time winning percentage and has won 15 MIAC championships. The only other MIAC school to have more than 500 wins is St. John's with 572.
"The [tradition] runs deep," former running back senior Ben Wartman said. "That's why people come to this school. They come here to excel both academically and athletically. They've been doing it forever."
Winning consistently year after year is no simple task, and Caruso credits the coaches who came before him.
"I think [St. Thomas] has been able to retain a lot of tremendous coaches over time," Caruso said. "When I first came to this school, we had coaches like Fritz with well over 500 victories who took over from another legend [Tom Feely] who had nearly 500 victories. It shows that yes, we have a good product, but we can retain some of the great talent too."
Junior basketball player Tommy Hannon agreed that the coaching at St. Thomas plays a big part in its success, but the winning tradition is what inspires players to compete at a high level.
"Our coaches really preach class and tradition," Hannon said. "We know that the guys before us won a lot, and they expect us to win. We know that we have to practice that much harder and be on top of our game because we're expected to do more than the average school."
Ryan Shaver can be reached at Shav7005@stthomas.edu.