With Saturday's second-round NCAA home game against Elmhurst (Ill.) just three days away, quarterback Matt O'Connell said consistency is what will keep the St. Thomas football team on track toward the national title.
"One of the biggest things is sticking to our schemes," O'Connell said. "We must continue to do what we've done all season long: take what the defense gives us."
Saturday's noon kickoff pits the Tommies (11-0) against the Bluejays (10-1) for the first time ever in football. However, the two institutions did play recently; last week in the NCAA Division III volleyball tournament with St. Thomas coming out victorious.
Elmhurst received an at-large bid into the NCAA tournament after its first College Conference of Illinois and Wisconsin (CCIW) championship since 1980, sharing the title with fellow tournament qualifier North Central (Ill.) and Augustana (Ill.).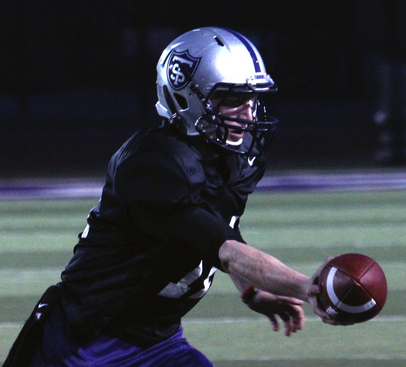 For the Bluejays, it's a season of firsts. The team cracked the American Football Coaches Poll for the first time and won the program's first playoff game last weekend, defeating Coe (Iowa) 27-24 in Cedar Rapids, Iowa.
Coach Glenn Caruso said he sees numerous characteristics in Elmhurst that he saw in his early years at St. Thomas.
"It reminds me of where our program was four years ago," Caruso said. "For them, everything is new and fresh. I love watching them play on both sides of the ball."
Elmhurst features an offense that predicates itself on the run first, highlighted by running back Scottie Williams. Williams ranks second in the nation with 1,928 rushing yards. The Bluejays have 933 more rushing yards than passing yards this season. Add William's 23 touchdowns and the Tommies could have their hands full.
"Our defense always strives on stopping the run and having all 11 men flying around, hustling to the football," defensive back Sean Hamlin said. "This is what has made our defense so successful."
The Tommie defense has contained opposing teams' rushing attacks. Last week, St. Thomas held St. Norbert (Wis.) to 9 yards rushing.
"We've made a commitment to stopping the run all season long," Caruso said. "Something's got to give Saturday."
Elmhurst quarterback Joe Furco sports a 168.5 efficiency rating and has six interceptions this season. Furco's offensive line has allowed nine sacks the entire season. The Bluejay offense averages 423 yards and 32 points per game. Elmhurst's defense is a different story, allowing 383 offensive yards per game.
The Tommies will be facing a defensive scheme they've only seen "once" before in Caruso's time and that could present some challenges in preparation.
"It's a three-three stack," Caruso said. "We saw it last year against St. John Fisher (N.Y.) and although we're somewhat familiar with it, it doesn't make it any easier to prepare for because they're (Bluejays) completely different from what we normally see."
The Tommie running game continued its strong performance last weekend, pasting the Green Knights' defense for 295 total rushing yards and running back Brenton Braddock's four rushing touchdowns.
O'Connell said the Tommies' prolific running attack exposes opposing secondaries to big passing plays.
"Running the ball helps immensely," O'Connell said. "It opens up the secondary to the deep ball and helps the pass game exceptionally."
Interestingly, the Bluejays have an asset the Tommies haven't seen nearly all season: a strong kicker in David Tomis, who is 10 for 17 this season. Tomis' longest kick is 51 yards.
Caruso said Elmhurst's commitment to the kicking game may change the way the St. Thomas offensive decision making in whether to punt or to attempt a fourth-down conversion.
"They have a lot of faith and trust in their kicker," Caruso said. "It (good kicking game) has a major difference in how we look at offensive play calls."
Field position played a vital part in the Tommies' ability to score 41 points last week against St. Norbert, partly on a poor performance by the Green Knights' punter.
All-American punter Garrett Maloney said in playoffs, all of the phases of the game, including special teams, are crucial.
"Good punting alleviates the pressure off our defense which then helps our offense," Maloney said. "If one phase doesn't work, it could provide more chances for (the Bluejays)."
With Thanksgiving at midweek, Caruso said the team's ability to play on the holiday weekend is "special."
"We're living the dream right now," Caruso said. "To be able to play football deep into November, is what you work for the entire year."
Ross Schreck can be reached at schr8250@stthomas.edu.