Formally known as the Blue Ox Rugby Football Club, the team had an unfortunate end to its successful season last year. The squad qualified for the national championship game but could not compete without St. Thomas sponsorship, which was lost because of off-the-field conduct in 1995.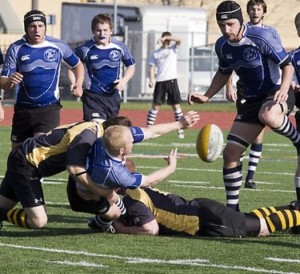 "Our team goal from that point on was to get school sponsorship," sophomore team captain Scott Bieloh said.
Several players tried to arrange meetings with the administration officials, who said they would consider reinstatement. After continuous lobbying by the players, the university agreed to sponsor the team and give it club status.
"The time is right," Campus Life Director Margaret Cahill said. "We have no reason to believe they won't be as successful as our other clubs."
The team captains had a meeting with school officials last week. The discussion focused on how to be on good terms with both the school and other clubs, as well as following the expectations the school has for them.
"They have been given a great opportunity and with that comes great responsibility," Cahill said. "I think they're up for it."
Junior Solomon Anderson said the team wants to exceed the school's expectations.
"We want to go above and beyond those expectations," he said. "We want to hold ourselves not only to the standards St. Thomas wants but a higher standard to show the type of people we are."
The news spread quickly. Sophomore Alex Goering said he found out through mass text messages and Facebook statuses that the team had been granted school sponsorship.
While the team is excited to have reached this goal, its players plan to take this new affiliation seriously.
"We owe it to the guys from the Blue Ox team for their hard work over the past five years who really wanted this," sophomore Anthony Aiello said.
In addition to having impeccable standards, the team is big on fundraising and community service. It plans on hosting a rugby clinic at St. Mark's this fall and volunteering around the Twin Cities. Every St. Thomas club has to complete a certain amount of community service hours, but Anderson believes his teammates would volunteer regardless.
"A lot of our players would do this without the requirement," he said.
Last year, the team played its games in Eagan and practiced at Marion Park near campus. Now, the team can reserve practice time in the Anderson Athletic and Recreation Center.
"Using the campus facilities will be really nice, especially for our winter season development," Goering said.
Now that the affiliation drama is over, Bieloh is ready to play and reach the goal that slipped through his fingers last year.
"Our goal for the season is to go to Nationals since we're allowed to now," he said.
Another team goal is to expand the sport's popularity on campus.
"We want to bring rugby to a bigger audience," Anderson said. "Having a club status will hopefully do just that."
Hayley Schnell can be reached at schn3912@stthomas.edu.