Sophomore Steve Maher and junior Dylan Thomas posted dominating pitching performances as the No. 5-ranked St. Thomas baseball team swept St. John's University in a doubleheader Wednesday at home.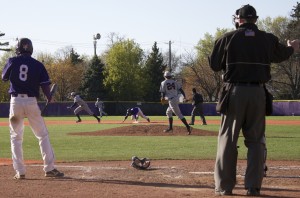 The Tommies won the first game 3-1 and cruised to a 5-0 victory in the second. Neither team had lost in MIAC play prior to Wednesday's game.
Game One
St. Thomas' offense started strong in the first inning. Freshman lead off hitter Ben Podobinski doubled to deep centerfield to start the inning off. St. John's pitcher Hayden Zimmerman gave up another single and a walk, loading the bases with no outs. Senior first baseman Dan Reichert singled to shallow centerfield to score one run for St. Thomas.
Both teams played solid defense until the fourth inning when the Tommies surrendered St. John's only run on a sacrifice fly.
The sixth inning flourished with activity. After stranding a runner in scoring position in the fifth, St. John's took two walks and loaded the bases after a wild pitch, but the half inning ended after a tag at the plate and two strikeouts. In the second half of the inning, however, St. Thomas scored two more runs.
The Tommies won the game with a final score of 3-1.
Maher struck out 11 batters and has a perfect 8-0 record on the season. He held St. John's to four hits, two walks and one run in the complete-game outing.
Before the game, the sophomore right-hander held Division III's third-best ERA, and Wednesday's performance lowered it to 1.29.
"St. John's is a good team, and I didn't want to take them lightly today. I wanted to give our team a chance to win," Maher said.
Game Two
The second game went scoreless until the fifth inning when freshman outfielder Jack Hogan hit a single and stole second. Hogan scored on an RBI by junior Jon Kinsel. Another single by senior Justin Novak put runners on the corners, and a Podobinski walk loaded the bases.
Sophomore outfielder Tim Kuzniar hit a fly to centerfield, bringing in another run. Senior third baseman Charles Bruchu hit the ball into deep center and brought Kinsel and Novak in for the inning's final two runs.
St. Thomas continued its scoring streak in the sixth inning. Podobinski picked up another two RBIs, bringing in Kinsel and Novak to give St. Thomas a 5-0 lead. Kuzniar and Bruchu both hit singles, but runners were stranded after a strikeout by sophomore catcher J.D. Dorgan.
"We're definitely in the driver's seat right now," Podobinski said. "We're going to continuing play good defense and good offense, and we showed today that we've got great pitching."
Thomas (3-2), a junior RHP, threw a one-hit shutout with no walks and 11 strikeouts. He hit one batter in the fifth inning and gave up a leadoff wind-blown double in the sixth inning but retired the other 21 batters he faced.
Thomas has won his last two starts in a seven-day span.
Coach Chris Olean said he was more than satisfied with the pitching and offense.
"We're very fortunate to get away with two wins with two pitchers like that, but we scored a couple of runs and had a great day," Olean said. "It certainly helps to put a little distance between us and (St. John's). I think they're going to be in the conference race for sure so to have a few games between us will help us."
St. Thomas has won 13 consecutive games, holding a 20-4 overall record and 8-0 MIAC record. The Tommies now have a two-game lead over Bethel for first place in the conference.
Anastasia Straley can be reached at stra0669@stthomas.edu.