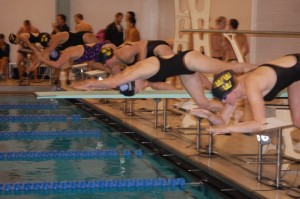 The men's and women's swimming and diving teams have been busy over J-term, smashing personal records and establishing themselves as top contenders in the MIAC.
The teams are returning several national qualifiers and have many freshmen who are making significant contributions.
Women's Swimming and Diving
After a third-place MIAC finish last year, the women's swimming and diving team hopes to make an even greater impact this year.
The team has had several strong wins, including victories against St. Olaf and last year's MIAC champion, Carleton.
"We've taken out a lot of bigger teams that we haven't in the past, and everyone is putting in 100 percent," senior All-American Jena Root said.
She said the team can contribute much of its success to this year's strong freshman class, which includes 26 swimmers.
"They have just brought our team up to a whole new level," Root said.
Jan. 18, freshman Katie Bromback was named MIAC co-athlete of the week for her strong performances in the 100-meter and 200-meter butterfly at the St. Olaf Triple Dual two days earlier.
Gustavus, which beat St. Thomas 126 to 168 last Friday, will likely be the Tommies' biggest competition at the MIAC championships Feb. 18 at the University of Minnesota's Aquatic Center.
Men's Swimming and Diving
Ranked No. 24 nationally and lead by senior All-American Peter Mullee, the men's swimming and diving hopes to place first at the MIAC championships.
"Everyone is swimming really well now," junior Matt Moore said. "It was really rough at the beginning of the year because we were just getting into it, but right now everyone is working hard and doing their job."
The men also have a strong freshman class that includes MIAC athlete of the week and freestyle swimmer Sam Rauchwarter.
"We always bring in a good freshman group," Moore said. "It's been that way since I've been coming in, but every year they just seem to be getting better and better."
The team improved its national rating, beating 22nd-ranked Gustavus 155 to 146 last Friday, and will carry that momentum into the conference meet.
"Conference is going to be out biggest meet," Moore said. "We're looking to break some records and go to [nationals]. The relays I know are big, and we're looking forward to it."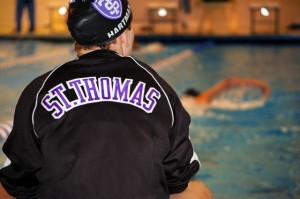 Life without the "Palace"
Because O'Shaughnessy Hall is being demolished, the swimming and diving teams have no home pool this year.
"We definitely miss the 'Palace,'" Root said. "We call it the 'Palace.' It's our home, and all of the seniors were really sad to see it go."
The teams now practice in McCarthy Gym on South Campus and use St. Catherine's Butler Sports and Fitness Center to host their home meets.
"McCarthy is definitely a little different because it's a little warmer and out of our element," Root said. "It's nice that St. Kates lets us do this, too."
Although Root will not be on the team when the new athletic center opens, she says the team is looking forward to the new facility.
"It's going to be fantastic with eight lanes so everyone can practice at once, and we can become a better team all around," she said.
Michael Ewen can be reached at mtewen@stthomas.edu.