The St. Thomas swim team was one of 137 teams around the world that participated in the Ted Mullin Hour of Power relay Tuesday at the Anderson Athletic and Recreation Complex pool.
Ted Mullin was a swimmer at Carleton College when he was diagnosed with sarcoma, a rare soft-tissue cancer that ultimately took his life. In an effort to raise awareness and funds for pediatric sarcoma research, the annual Hour of Power fundraiser is an hour-long continuous relay to spread the word about the cause through the swimming community.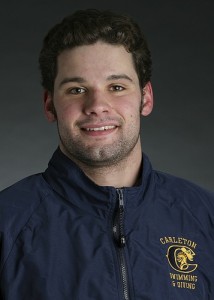 Unlike most of the teams that participate, St. Thomas has a personal connection to the cause.
St. Thomas assistant swim coach Elise Knoche, a 2006 Carleton graduate, was Mullin's teammate.
"He was diagnosed in the spring of our sophomore year and took the fall of junior year off, but then he came back and was actually able to come on our training trip in the winter of junior year," Knoche said. "Then he swam until conference [and] swam at the conference meet junior year."
After a setback during his senior year, Mullin was unable to stay on campus for the season. But as captain of the swim team, he stayed in touch through e-mails and occasional visits, Knoche said.
Since 2006, the event has raised more than $190,000 and continues to grow each year.
Mullin's cousin Maureen Manley said the relay still means a lot to her and her family, even after five years.
"To see kids that didn't even know Ted to be this involved is amazing," she said.
Colleen Schreier can be reached at schr1207@stthomas.edu.