When the buzzer sounded in Salem, Va., last March, the St. Thomas men's basketball team was the 2011 Division III national champions. This Friday the team will take the court with the highest expectations a Tommie basketball team has ever faced.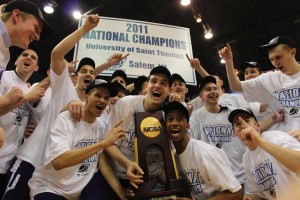 The Tommies open their regular season Friday against Occidental College in Los Angeles and are hoping to continue last year's success.
"We have a lot of talent," senior Tommy Hannon said. "You never know what can happen when you get into March. We're hoping for that same kind of magic."
Tauer fills head coaching role
John Tauer will make his debut as head coach Friday after 11 years as an assistant coach under Steve Fritz. Tauer graduated from St. Thomas in 1995 with All-Conference and Academic All-America honors.
Tauer said although winning a MIAC and national championship will always be his top goals, the team's success this season will be measured in excellence.
"The reality is wins and losses are a byproduct of doing things the right way and pursuing excellence," Tauer said. "Excellence doesn't happen at 7:30 p.m. when the lights come on for a game. Excellence happens in practice, in the weight room and out on the track."
Junior guard Will Deberg said Tauer's transition to head coach will be a smooth one.
"I think it'll definitely help us," Deberg said. "He did a lot last year, especially for the offense, so it won't be too big of a change."
All-star departures
Tauer said the seniors were a major factor in last year's excellence. The Tommies graduated All-American point guard Tyler Nicolai, All-Defensive team forward Teddy Archer, All-Conference shooting guard Alex Healy and forward Anders Halverson. The Tommies also graduated a key reserve in All-American football player and forward Brady Ervin.
The team lost speed, size and leadership, so Tauer said it will need to focus on being better at other things this season.
"We aren't probably going to be as quick. We aren't going to have the same experience, but what we hopefully can do is piece things together," Tauer said. "We're going to be a different team, but our expectations aren't any lower."
Last year's senior class won 106 games in its St. Thomas career and helped post an 83-8 record over its last three seasons.
Hannon leads returners
Although the 2011-2012 team returns 10 players with varsity experience, Hannon, an All-MIAC honorable mention honoree last year, returns as the Tommie's only starter from the championship team. Hannon averaged 12.2 points per game last season.
Other players returning this season include senior Peter Leslie, Deberg, junior guard John Nance, junior guard Noah Kaiser and sophomore guards Eric Tengwall and Brendan Gay.
Joining the varsity roster are freshmen Connor Nord and Dylan Stewart from Eden Prairie, Minn., as well as Marcus Alipate from Bloomington Jefferson and Jimmy Ancius from Lacrosse, Wis.
Tauer said he loves the talent and passion he sees from this season's team but gaining experience early will be crucial.
"We've got to get experience, and our learning curve has to be a quick and steep one where we cut out some mistakes, but we certainly expect to vie for a (MIAC) championship again," Tauer said.
A MIAC championship this season would be the Tommie's seventh in a row. No program in 60 seasons has won or shared seven consecutive conference titles.
The Tommies received the No. 8 preseason ranking for the 2011-2012 season. Hannon said although the team doesn't place high values on preseason rankings, they expected it.
"That was right around what we expected just because of what we lost, but it doesn't mean anything unless we win," Hannon said. "We have to go out this week and justify that's where we should be."
Major Tests
The team's first major test will come as the Tommies open conference play at home against top MIAC rival St. Olaf on Nov. 30. Last season, St. Olaf handed St. Thomas its only home loss.
"Opening up with St. Olaf will be a great barometer for us to see how well we're doing," Tauer said.
Deberg said his team will be out for revenge.
"We're very excited about it," Deberg said. We'll be ready to play."
The Tommies were tested in exhibition play in early November against Division II Winona State and lost 84-52. Hannon led the Tommies with 10 points, while Deberg scored nine and Leslie had seven.
Despite the big loss, Tauer doesn't believe the score indicated what his team took away from that game.
"That game taught us a lot about taking better care of the basketball and not giving up easy baskets no matter how powerful the team is," Tauer said. "I think that's a game we learned a lot from."
Hannon agreed that the experience was important.
"That was good for our younger guys because it was a lot of people on our team's first time playing big minutes," Hannon said. "It was a good way to get the goose bumps out so people can relax."
A match up between the last two national championship teams, St. Thomas and University of Wisconsin-Stevens Point, is set for Dec. 22 at Stevens Point.
Deberg said his team will come out fighting.
"The ultimate goal for everyone is to win the national championship," Deberg said. "Since we got a taste of that last year…the goal again this year is to get back there and win it again."
Briggs LeSavage can be reached at lesa4364@stthomas.edu.