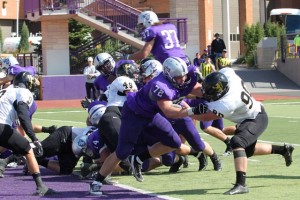 The No. 3-ranked St. Thomas football team will travel to Concordia-Moorhead on Saturday, Sept. 24, where it expects a tough game from the Cobbers.
The Cobbers, who are 2-1 on the season, fell in overtime last week 28-21 to St. John's University. Concordia is now 0-1 in the MIAC.
After a 49-14 win over St. Olaf last week, the Tommies are looking to continue improving. They are 3-0 on the season and 1-0 in the MIAC.
"Our team has steadily improved each week. We had a lot of growth from week one to two and another good chunk of growth between week two and three," coach Glenn Caruso said. "I think if we can do that and take care of the football we should be in pretty good shape."
Caruso said he hopes to see more consistency from his team this week.
"We had about 25 to 35 plays in each of the last two weeks where I've seen us play an A+ game on all three phrases of the ball, but we need that 60 to 70 snaps on each side of the ball," Caruso said.
Caruso was happy with his team's average starting field position last week and would like to see that trend continue.
"We started with tremendous field position when our offense hit the field, and that is really a tribute to our special teams pitching in and giving us nice return yards and our defense for not letting up yards to allow them to start to get drives going," Caruso said.
The defense was a major factor last year when the Tommies crushed the Cobbers 56-7. The Tommies forced five turnovers and allowed only ten first downs.
The main difference for the Tommie defense this year is Concordia's starting quarterback, Michael Dunham, will be playing. Last year, Dunham was injured and unable to play in the game.
"I understand the game went in our favor very well, but they also did not have their best player," Caruso said. "Not to say one player is going to make all the difference in the world, but he is a pretty darn good one."
The key players that the Tommie defense will be focusing on are Dunham and fullback Brett Baune.
Concordia's option offense is like nothing the Tommies have seen this season.
"You have to be very diligent when playing a team that could be as surgical with their offense as they are, and that is exacerbated by the fact that what they run is the anomaly in our league," Caruso said.
Seiror defensive lineman Blake Brix is also expecting a tough game.
"We know they're a tough team that likes to run the ball," Brix said. "As a defense, we really pride ourselves on shutting down the running game, so if we do our job we should be able to do that."
The Tommie offensive line will also be in for a test against Concordia's defense.
"They have a tremendous nose guard and two defensive ends that if you take the wrong step are going to make you pay really quickly," Caruso said.
The Concordia defense will be running a defense that the Tommies have not seen in the last three weeks, but this will not catch them off guard.
"Fortunately for our offense, the defense they run is the same one we run. So even though we have not seen it in the last three weeks, we saw our fill of it in the fall camp against each other," Caruso said.
The Tommies' key to getting a win against Concordia is taking care of the football.
"I think we have moved the ball in a very balanced manner in the last couple of weeks, but we are obviously best when we take care of the football," Caruso said. " When we have some issues with turnovers, the offense not only bogs down but just loses its rhythm overall."
Senior quarterback Dakota Tracy has seen great improvement in the offensive line in the last three weeks but does not expect for Concordia to hand St. Thomas a win like last year.
"They are going to bring their A-game just like they did for St. John's. It's going to be a battle up there," Tracy said.
Olivia Detweiler can be reached at detw5520@stthomas.edu.