The St. Thomas football team starts its NCAA playoff run against St. Scholastica at noon Saturday at O'Shaughnessy Stadium.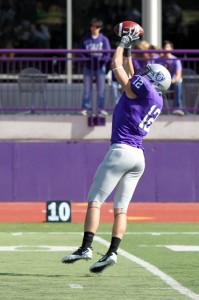 After what players call a "well-deserved" bye week, the undefeated Tommies face the Saints, a team that is also 10-0. Both teams received automatic bids to the NCAA tournament: St. Thomas won the MIAC and St. Scholastica won the UMAC.
The Tommies haven't played a game since their win over Carleton on Nov. 5, and junior cornerback Jack Gavin believes having a bye week at the end of the regular season will benefit his team in the long run.
"It was a great time to get our legs back a little bit and heal up," Gavin said. "A deep run in the playoffs could mean five more weeks of football, so the time off definitely helped."
Teams meet for the first time
This will be the first game played between the St. Thomas and St. Scholastica football teams. St. Scholastica's football program is in its fourth year of existence, and this is its first NCAA playoff game. In comparison, the Tommies are playing in their seventh NCAA playoff game under coach Glenn Caruso and are 2-0 in first round games.
Senior wide receiver Ricky Margarit is excited to play a new team for the first time.
"It is fun to prepare for a new opponent that you've never seen before," he said.
Gavin said it is more difficult to prepare for a team he hasn't seen, but that comes with competing on the national scale.
"That's what the playoffs are all about," he said.
Undefeated for a reason
Players and coaches know a team has to be good in order to make the NCAA playoffs. However, it requires more than "being good" to go 10-0 in the regular season and play into late November and December.
"The teams you see this time of year are 10-0 for a reason," Caruso said.
While the Saints' football program is young, Caruso said he expects "to see a very confident and balanced team."
The Saints are loaded with offensive threats. Senior quarterback Alex Thiry has thrown for 2,549 yards and 37 touchdowns with only one interception this season. Senior wide receiver Keegan O'Neill has 50 receptions for 926 yards and leads the team in touchdown receptions with 16. The Saints also have a balanced rushing attack with both junior Travis Nehowig and sophomore Jake Jensen averaging more than 117 yards per game.
The Saints' defense should not be overlooked either. Their defense has held opponents to about 15 points per game. Senior linebacker Sean Graskey leads the team with 93 tackles, including 13 for a loss.
When facing an offense that averages 45 points per game, Gavin believes the key will be frustrating the quarterback with defensive intensity.
"Our defense is all about pressuring the quarterback and making him throw the ball in a hurry," he said.
"This game won't be any different," he said. "We need to make (Thiry) uncomfortable in the passing game."
The Tommies hope their playoff games from the past two years will benefit them. Margarit thinks his team's experience in postseason play will help the Tommies stay undefeated Saturday.
"We have been in this situation the last two years, and we just have to go out there and play our game," he said.
Home field advantage
The Tommies are more than pleased to host the first round playoff game. St. Thomas has been successful all season at Palmer Field holding its opponents to a total of 35 points in five home games.
Margarit knows playing at home will give his team an advantage and hopes to see solid fan support.
"Playing at home in the playoffs is huge," he said. "Not only do we get to stay within our normal routine, but we have the privilege of playing in front of our own fans who have been tremendous this year."
Senior wide receiver Fritz Waldvogel needs 84 yards to reach 4,000 career reception yards. He averages more than 86 receiving yards per game.
In addition, Waldvogel ranks second for all-purpose yards (6,728 yards) and punt return yards (1,415 yards on 91 returns) in the MIAC's career lists.
'Rhythm and flow'
After a heartbreaking playoff loss at home last season to Bethel, the Tommies have proven themselves to be a national championship contender. The team has been ranked third in the national Division III football rankings all season and cruised to its second consecutive conference championship.
Even though there is a lot of attention focused on his team, Margarit doesn't feel any added pressure in preparing for playoffs.
"We've been in this situation before, and we know what we have to do to accomplish our goals this postseason," he said.
Caruso said the keys to his team's success are simple.
"[We must] relax and get back into a rhythm and flow," he said.
The other key will be holding true to the team's identity.
"We don't have to be Superman out there," Caruso said. "We can just be who we are."
Hayley Schnell can be reached at schn3912@stthomas.edu.