The Tommie football team opened its season a few blocks down the road last year, throttling a Macalester College football team that won a combined six games in the past two seasons. But this year the team is traveling nearly five hours to De Pere, Wis. to open the season against St. Norbert College, a program with a successful history and a 9-1 record in 2009.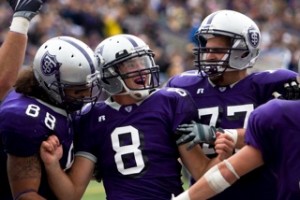 "[We're] really pumped up," senior defensive lineman Cyrus Allen said. "Everyone's really excited to hit people that aren't our own, so it's going to be nice to play another team, especially one as competitive as St. Norbert."
The St. Norbert Green Knights finished 9-1 in the Midwest Conference last year and were undefeated at home (5-0). The Green Knights' only loss was a 52-24 thwarting from Monmouth College, the team St. Thomas defeated handily in the NCAA playoffs last season.
The Green Knights have collected 100 wins in the last 11 seasons under Head Coach Jim Purtill, including eight Midwest Conference championships and seven NCAA Division III tournament appearances.
The Tommie defense will have its hands full with the St. Norbert quarterback, senior Rob Berger. Berger ranked second in the conference in total offense last year, rushing for 600 yards and passing for 2,036 yards in 10 games. He was also second on the team last season in rushing offense, making him a dangerous and versatile offensive threat to the Tommies.
The game could hinge on the Tommies' ability to contain Berger. Allen said it will be a crucial element of the game.
"It's going to be a challenge because he's a big, strong, but fast and athletic quarterback that's good with his feet," Allen said. "So it's going to take a lot of good tackling and a lot of hustle and pursuing the ball to help contain him."
St. Thomas will also look to contain senior running back John Weninger, who averaged more than 90 yards per game and was part of a Green Knight rushing offense that placed second in the conference last season.
The St. Thomas offensive line should do well in protecting quarterbacks Greg Morse and Dakota Tracy as the Green Knights were tied for last place in the conference with 14 defensive sacks last season.
Tommie running backs Ben Wartman and Colin Tobin should look to exploit the Green Knights' rushing defense that ranked at the bottom of the conference last year. Opponents averaged nearly 140 rushing yards per game last season against St. Norbert.
But while the Green Knights' rushing defense suffered last year, it will have more experienced players this year. Senior linebackers Drew Oudenhoven and Justin Baker return after ranking first and third, respectively, in tackles last season. The team returns a handful of other defensive players with game experience.
St. Norbert College might be more of a season-opening challenge to the Tommies than Macalester was one year ago, but Allen said starting the season with a tougher opponent will help the Tommies focus early in the season.
"The first game is definitely the most intense right off the bat, and [playing St. Norbert] will help our preparation and set the tone for the rest of the season," he said. "They're going to be good competition and a good test."
The opening kickoff at 1 p.m. this Saturday will mark the first football game played in the Green Knights' new outdoor athletic facility, Donald J. Schneider Stadium. The outdoor facility cost $11.5 million, according to the St. Norbert wesbite.
Miles Trump can be reached at mttaylorjohn@stthomas.edu.