An undefeated season will be on the line Saturday when St. Thomas (9-0) faces Carleton College (3-5) at home.
With a win, the No. 4 Tommies will become the first team in school history to go 10-0.
"When we set our team goals up at the beginning of the year, we said we wanted to be conference champions," Coach Glenn Caruso said. He said they want to be undefeated conference champions and won't settle for a 9-1 record.
Saturday also marks the last regular season home game for the senior class. Caruso said he is more concerned with honoring the seniors than all of the pregame hype.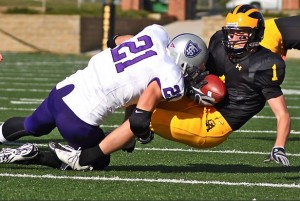 "We'll honor the seniors in the pregame and during the game as well," Caruso said. "We've got some guys who have transferred, some out of high school, some from across the country, some from across town, and they've all kind of morphed into this neat little class of 14 guys."
Although the Tommies are one win away from their first undefeated season ever, senior linebacker Tommy Becker said the approach in practice "is business as usual."
"For us every game is the same," Becker said. "No week is different; it's just one more step toward our goals."
With so much on the line Saturday, Becker expects the atmosphere to be great.
"We've got a great following right now with the alums and the whole school," Becker said. "It's nice to know that they believe in us, and it gives us a little more fire to go out and perform for them. We want to do our fans right."
Carleton enters Saturday's game coming off a tough loss to St. John's. Although Carleton has been near the bottom of the MIAC the past two seasons, Caruso said it's a "tougher match-up than their record indicates."
"Our schemes don't really line up perfectly well," Caruso said. "Let's keep in mind we're only 24 months removed from having to score on the very last play to beat them."
Slowing down Carleton's offense
Carleton junior quarterback Vaughn Schmid is near the top of the MIAC in virtually every category. Schmid's 211 passing yards per game is the third highest in the conference, and he leads a Knights squad that is ranked third in passing and total offense.
Schmid also has great running ability. He is second in the conference in total offense and has rushed for 354 yards and four touchdowns this season, making him the Knights' second best rusher.
"He's a big kid who can throw it a country mile, but he can also spread the field," Caruso said. "I'll tell you, though, I think the hidden gem of their team has been their offensive line. For a team like Carleton that gives up several pounds per man across the line, they do a phenomenal job protecting Vaughn when he's back there."
The Knights' top running back, junior Jon Lien, has also put together a solid season. Lien's 692 rushing yards ranks fourth in the MIAC, and he has added eight touchdowns. Lien notched a career-high 112 receiving yards on six catches last week and also scored a rushing and receiving touchdown.
The Tommies have seen their share of explosive running backs this season, and Becker said he likes the challenge that Lien and the Carleton offensive line present.
"It's going to be a great battle," Becker said. "It's a great test for our defense to go out and try and dominate in another week."
Battle of the special teams
This season Carleton leads the MIAC in kickoff returns, averaging 22 yards a return and bringing two kicks back for touchdowns. Carleton boasts two kick returners with big play capability. Junior DeAngelo Williams is second in the conference with a 22 yard return average, while fellow junior Tsubasa Matsui averages 20 yards a return and has scored a touchdown.
The Tommies have the MIAC's second-best kickoff coverage team, and Caruso is confident his team can keep Carleton's playmakers in check.
"We'll kick away," Caruso said. "They're good players, and we respect that, but in the same breath, we never shy away from a challenge."
Breaking a record
Senior All-American running back Ben Wartman is one touchdown away from being St. Thomas' all-time leader. Wartman tied the record last week with a five-yard run, giving him 45 career touchdowns.
"The win was the most important thing last week," Wartman said. "Being the school's touchdown leader would be a sidenote compared to winning the MIAC and helping my team to a 10-0 start."
Ryan Shaver can be reached at shav7005@stthomas.edu.