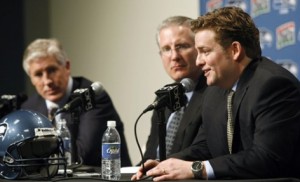 The front office of the rebuilding Seattle Seahawks announced the organization's next general manager Tuesday.
That man is none other than 1993 St. Thomas graduate, John Schneider.
"We're ecstatic," said John Schneider's older brother Bill Schneider. John Schneider could not be reached for comment. "It's been a long road for him over the years, moving his way up to different levels within the NFL."
It's been a long road for 38-year-old John Schneider – 16 years, in fact. And while it's not often that a young college student knows what they want to do the first day they step foot on campus, Bill Schneider said his little brother always aspired to reach football's highest level of competition.
"He always had the desire to work in the NFL," Bill Schneider said. "The path he originally thought he'd have to choose was to start coaching in high school, but that alone wouldn't be enough to survive. So he thought he'd have to be a teacher, and he was always a history buff as well."
The former Tommie earned his undergraduate degree in history, while also studying education. He played football at St. Thomas for two years before his career was cut short by a shoulder injury.
Schneider had a plan to get to the NFL, albeit a seemingly unorthodox one. But that plan took a different course in the summer of 1992 when he landed a summer internship with the Green Bay Packers, the team he grew up just minutes from in nearby De Pere, Wis.
"He wrote a letter to Ron Wolf that basically asked him for the same break that Al Davis gave Ron Wolf several years earlier," Bill Schneider said. "[Wolf] basically told him he liked the letter and said 'I got plenty of other candidates here, you screw up I pull another letter so show me what you got.'"
John Schneider will be entering his second stint with the Seahawks, the first of which came in 2000 as director of player personnel. John Schneider started with the Packers from 1993-96, then went to the Kansas City Chiefs from 1997-99 before heading to Washington for the Redskins in 2001 before heading back to Green Bay for the past eight seasons.
Schneider will join a Seattle organization that is trying to rediscover its identity, and he'll do so with Pete Carroll. As the former coach at the University of Southern California, Carroll was the face of one of the most successful collegiate athletic programs in the country and was announced as Seattle's new head coach earlier this month.
"This will be a unique situation in Seattle for John," said Bill Schneider. "He and Pete have already hit it off real well and it seems like it will be a good collaborative relationship."
Patrick Stumpf can be reached at stum3488@stthomas.edu