The fourth-ranked St. Thomas football team will put its undefeated record (7-0, 5-0) on the line during Saturday's game against Augsburg at O'Shaughnessy Stadium.
The home field advantage may be to the team's benefit, but Augsburg (5-2, 4-2) should not be overlooked with a roster of dynamic players.
Coach Glenn Caruso said he thinks that Auggie freshman quarterback Ayrton Scott will pose as a challenge for the team's defense.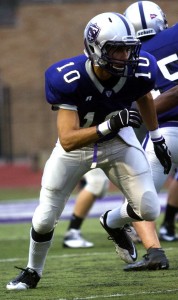 "He's a very accurate passer, he's a very thrifty runner," Caruso said. "Certainly the majority of the offense goes through him, (and) it speaks volumes about how good he is. When you look at the numbers, they put up."
Even with Scott completing 64 percent of his passes compared to sophomore quarterback Matt O'Connell's 58 percent, the Tommies have an edge with the depth of talent they possess.
Caruso said he thinks the team's depth will be a contributing factor in pulling out a victory against the Auggies, especially in the case of injuries.
"We're not happy with the rash of injuries," Caruso said. "(But) it's awfully nice to know that we have enough talent and thoughtfulness in that locker room that a guy, many guys, can go in and take over and play very productively."
Augsburg not only has a strong offense with Scott calling the shots, but the team's 1,912 rushing yards exceed the Tommies' 1,783 rushing yards.
Senior cornerback Jack Gavin said despite Augsburg's third-place standing in the conference, the team isn't going to approach the game any differently than it would with any other team.
"They're our next opponent, so we're concerned about them; we're concerned about beating them this weekend," Gavin said. "If we're able to take care of that from there on out, obviously that is going to be to our benefit."
The Tommies had five turnovers in the last game against Hamline. Caruso said he feels the team could have responded quicker on the defensive end.
"Certainly we probably allowed a couple more first downs earlier than we thought we would," Caruso said. "They did get us on a double pass for a touchdown, and (I) credit them for that."
To find success against Augsburg, the Tommies need to continue to average 39.4 points per game, slightly more than the Auggies' 37 points per game.
Sophomore running back Aaron Terrell-Byrd said he believes that the Tommies need to take each game one at a time in order to find success against the Auggies.
"We come into it thinking it's another game," Terrell-Byrd said. "We prepare the same way and we just know we have to go out there and do our best."
The last time Augsburg defeated St. Thomas was in 2008, squeaking by with a 22-20 win. The Auggies' four-year dry spell will be hard to break with the Tommies' dominance at home.
Caruso said the team has had its success at home due to the familiarity of playing on its home turf.
"Our guys have played their best football at home," Caruso said. "I think the familiarity and the pride are the two biggest factors."
Sean Crotty can be reached at crot0230@stthomas.edu.