Beginning the season with a 3-0 start, the Tommies will look to continue their success as they face the Concordia-Moorhead Cobbers at home Saturday.
The Cobbers are 1-2 this season, and have had early struggles in the MIAC, losing to St. John's last week. The Cobbers' only win was a 42-0 home rout of Valley City State. In both of the Cobbers' losses, the team fell behind early and never caught up.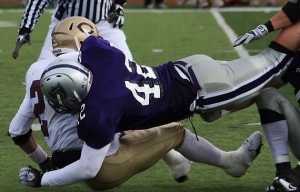 "I think it's very important for our offense to get into a rhythm early and set the tone for the rest of the game," senior defensive lineman Cyrus Allen said. "It is also very important for the defense to go out and set their tone early. It's going to take a full team effort to come out with a win on Saturday."
The Tommies have beaten the Cobbers each of the past two years, and hope to make it three in a row on Saturday. However, the team's past success doesn't have Coach Glenn Caruso chalking up a win just yet.
"Obviously when you beat a team two years in a row, it doesn't entitle you to think you're going to beat them," Caruso said. "But it does give you a benchmark in terms of, if you want to play better than this team, this is how hard you have to work, both throughout the game and throughout the week."
The Cobbers had two of the top 10 rushers in the MIAC last year, but both graduated. Freshman Trent Johnson has taken over as the starter and has 123 rushing yards through his first 3 games, averaging 7.2 yards per carry.
Safety Zach DeBeltz, a senior, is one of only three returning starters from last year's pass defense and he is ranked No. 2 in the MIAC. DeBeltz led the Cobbers in tackles and had 10 interceptions last year, tied for most in the MIAC. He has one interception and one fumble recovery so far this season.
Last year, DeBeltz intercepted two St. Thomas passes in a losing effort.
"Number 24 is a tremendous talent," Caruso said. Referring to one of his interceptions last year, Caruso said: "It was one of the sweetest interceptions I've ever seen, and it takes not just a smart athlete but a stellar talent to do that, and this kid is both."
Despite returning few starters on the defensive side of the ball, the Cobbers' defense shouldn't be overlooked.
"They are very stalwart as a program," Caruso said. "The other guys will be prepared to step up and I think they'll be ready to go."
The Cobbers are allowing an average of 255 passing yards per game this season, which is the third worst in the MIAC, despite last year's success defending the pass. This pales in comparison to the Tommies' defense, which is leading the MIAC by allowing only 128.7 passing yards per game.
The Cobbers are coming off a 40-28 loss to the Johnnies, a game in which they gave up 367 pass yards and 4 TDs.
But the Cobbers' defense has improved in forcing turnovers and collecting sacks. Last season the Cobbers recorded low sack totals and a low turnover ratio. This season the Cobbers are leading the MIAC with 11 sacks in the first 3 games. The team's +4 turnover ratio is second behind the Tommies in the MIAC.
Last week junior wide receiver Fritz Waldvogel had a monster game against St. Olaf, catching three touchdown passes and racking up 239 receiving yards. The Tommies hope to duplicate their passing success against the Cobbers.
"[The Cobbers] secondary is very athletic," said junior wide receiver Nick Gleisner. "But if we stick to the game plan and play up to our abilities, then hopefully everything will fall into place and we can achieve some success this weekend."
"We're going to have to play very disciplined football in order to beat this team," Allen said.
Ball security has not been a problem so far this year for the Tommies, and Caruso hopes this continues.
"We win the vast majority of games in which we take care of the football," he said.
If they win Saturday, the Tommies will go into next weekend's Tommie-Johnnie game undefeated.
Dan Cook can be reached at cook9156@stthomas.edu.