For the second consecutive season, the St. Thomas football team finds itself in the national semifinals, this time against Wisconsin-Oshkosh at 2 p.m. Saturday at O'Shaughnessy Stadium.
The Titans (13-0) have never made the NCAA Division III playoffs; and yet, they're in the national semifinals.
Oshkosh is having its best season in the program's 118-year history, claiming its first WIAC conference title since 1976 in the process. The team has the nation's longest winning streak (15) dating back to last season and come off a thrilling overtime upset at No. 3 Linfield (Ore.) 31-24 last weekend. The Titans overcame a 21-6 halftime deficit.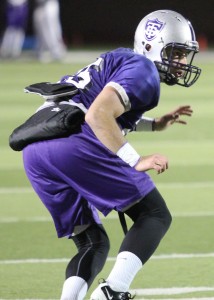 The Tommies (13-0) and Titans have two common opponents heading into Saturday's battle on the gridiron: Wisconsin-River Falls and Wisconsin-Eau Claire. St. Thomas took care of River Falls at home 41-9 while overcoming a late 11-point deficit to win at Eau Claire 27-24. Oshkosh defeated River Falls on the road 19-7, while thumping Eau Claire at home 50-13.
St. Thomas and Oshkosh haven't squared off in football since Neil Armstrong stepped onto the moon way back in 1969, with Oshkosh coming out on top 34-20.
Coach Glenn Caruso said he's had his eye on Oshkosh for some time.
"We're very familiar with (Oshkosh)," Caruso said. "(We've been) following them and watching their games for the better part of the last two seasons. We thought there might be a point in time where we would see them."
Although St. Thomas may be in the same round as it finished last year, one main difference stands out: Saturday's game is home where the team is riding a 16-game home win streak. The Tommies are also 9-1 in the postseason at O'Shaughnessy Stadium during Caruso's tenure.
Quarterback Matt O'Connell said the home game is a "huge" advantage.
"Travel time played a large role last year," O'Connell said in reference to his team's trip to Wisconsin-Whitewater last season for the semifinal game. "We're very comfortable at home in front of our own fans."
Last season, St. Thomas made its first-ever trip to the national semifinals and was defeated by eventual national champion Whitewater 20-0.
O'Connell said he thinks the team can use last year's experience to prepare for Saturday.
"We kind of know what to expect," O'Connell said. "We were acclimated to the national semifinals last year and will use that to our full advantage."
The Titans are led by Gagliardi Trophy finalist quarterback Nate Wara, who has helped a dominant Oshkosh offense average 39.3 points per game. Wara is a dual-threat quarterback, averaging 234.2 passing yards per game while also being the Titans' second leading rusher with 739 yards this season.
Caruso said he thinks Wara is a "complete football player."
"He plays the game the way it's meant to be played," Caruso said. "He's very dynamic as he has a lot of success with his feet, a lot of success with his arm and a lot of success with his mind."
Cornerback Ryan Deitz said he thinks that defensively, it will take a "team effort" to contain Wara.
"Going against a dual-threat quarterback like Wara who can pass the ball effectively and also run the ball extremely well, is a challenge," Deitz said.
Oshkosh has a powerful ground game led by running back Cole Myhra's 1,571 yards and 16 touchdowns. Myhra averages 6.6 yards per carry. The wide receiving corps are highlighted by Caleb Voss. On the season, Voss has 1,234 yards on 61 catches for 13 touchdowns.
Deitz said he thinks preparation will be a key to slowing down Wara and the Titans.
"Oshkosh is a great team with very good players and offensively they are a talented group," Deitz said. "We look to have a great week of preparation and are excited for the opportunity to compete."
The Tommie offense will face a Titan defense Saturday that has allowed only 14.9 points per game. Much like last week against Hobart (N.Y.), the Oshkosh defense is predicated to stop the run first and force teams to throw the football. The Titans allow 91.7 rushing yards but a permeable 201.5 passing yards.
O'Connell said he feels the Tommies must continue to run the football to stay "balanced" on offense, but may pass more this weekend.
"Even if we play against a good run-stopping defense, we are going to run the ball," O'Connell said. "Success on the ground will open up opportunities through the air. We'll try to exploit their deficiencies the best we can."
With a trip to the national championship on the line, Caruso said the key to victory is very simple.
"Be the best 'us' we can," Caruso said. "The teams that have the most success are the ones that are 'them' the best."
Ross Schreck can be reached at schr8250@stthomas.edu.